Diaper Party: The Beginners Guide (incl. Gift Ideas)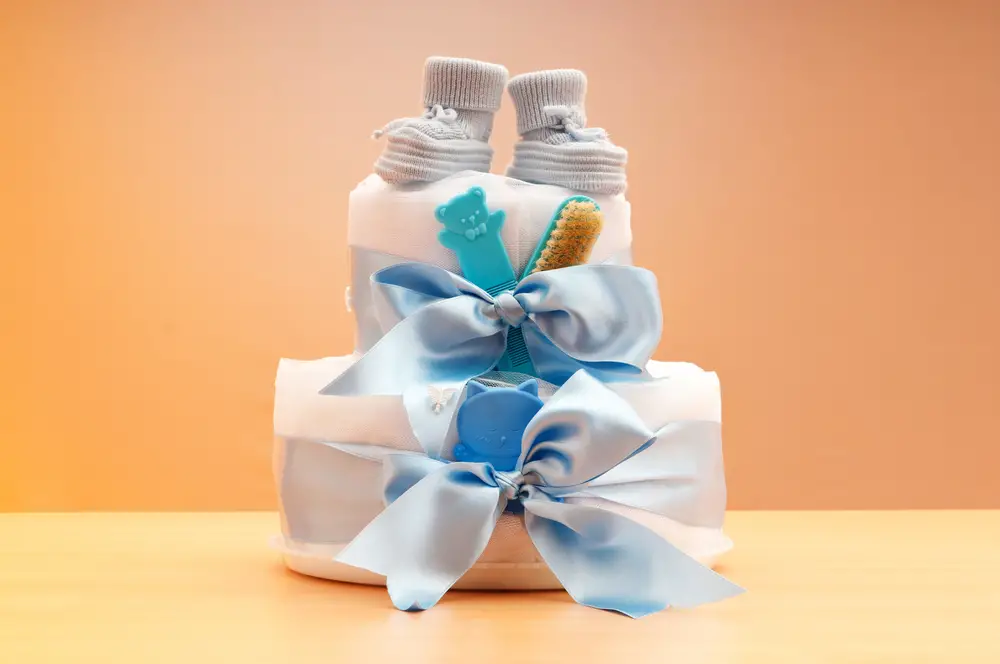 A diaper party is a baby shower for the dads or partners. Some couples opt to have a co-ed baby shower. However, some partners prefer to do their own thing with their friends. It is typically a low-key event; each attendee is asked to bring a box of diapers for the new baby.
What is a Diaper Party?
A diaper party is a way for the dad-to-be or partner to have a fun event with their friends while the official baby shower is occurring.
Diaper parties are a relatively new trend and are much less organized and active than a baby shower. Diaper parties are sometimes called Pampers Parties, Man Showers, Huggies, and Chuggies party, or Beer and Diaper parties.
Typically pizza, BBQ, or a cookout is the main meal, and beer and other drinks are served. Guests may plan games or other activities, but it is not as organized as a baby shower.
You can certainly send invitations, but a less formal invite such as an e-vite or Facebook event invite is sufficient.
Diaper Party vs. Diaper Shower vs. Baby Shower
A diaper party is primarily a diaper party for guys. In contrast, a diaper shower is a party for the mom or both parents where the principal gifts are diapers and wipes. Diaper showers are ideal for parents expecting their second or third baby who don't need as much baby gear.
On the other hand, a baby shower is usually a large event held for first-time parents.
| | | | |
| --- | --- | --- | --- |
| | Diaper Party | Diaper Shower | Baby Shower |
| Who is Invited | Partner-to-be friends, some close family | Close friends, and family of both parents. | Friends and family of both parents. |
| Invitations | Yes | Yes | Yes |
| Theme | Possibly | Possibly | Yes |
| Decorations | Not typically | Yes, some | Yes |
| Food | Finger food and BBQ, Pizza, Cookout | Finger food, sandwiches, salads, desserts | Tea sandwiches, fruit trays, veggies trays, salads, cookies, cupcakes |
| Drinks | Beer & mixed drinks | Wine & sodas | Wine & sodas |
| Games | Yes | Yes | Yes |
| Favors | Not typically | Possibly | Yes |
| Diaper Raffle | Yes | Yes | Yes |
| Prizes | Yes | Yes | Yes |
| Gifts | Usually diapers or wipes | Usually diapers or wipes, or new clothing especially if the new baby is a different gender | Yes, typically anything from the baby registry, gift cards, and diapers |
Why Have a Diaper Party?
Some couples decide to have a diaper party to divide and conquer. If a mom knows that her partner and their friends won't enjoy a traditional shower, it's a fun way for dads and partners to get their moment to shine.
Having a dad diaper party will likely yield you more diapers and wipes than just having one shower. Plus, diaper party etiquette is more casual and laid back, so your partner doesn't need to dress up if that's not their thing.
Lastly, a men's diaper party allows your partner to hang out with their friends in a manner that suits them while still celebrating the momentous event of a new baby.
How to Throw a Diaper Party?
Like a traditional baby shower, a diaper party for men is hosted by a coles friend or family member. If hosting, consider the guest list, location, menu, games, theme, decorations, and activities.
1. Guest List
Diaper party guests should include the guest-of-honors closest friends and family. It doesn't need to be limited to men only but consider who would enjoy the event. For example, if you're planning a diaper keg party, his 75-year grandmother will likely not be interested; then again, she might be!
This is not a formal event, so you don't need to invite co-workers or other casual acquaintances, fearing someone will feel left out.
If the party is happening at the same time as the baby shower, put your head together with the individual planning the shower to ensure you don't have duplicate invites.
2. Location
The time of year the baby is due will be a factor in determining the ​​diaper party location. But, if you live somewhere, the weather is nice, or it is spring or summer, consider an outdoor event like a BBQ or picnic.
Other options for a diaper bash include a local fire station or community hall, a favorite pub or bar, especially if they have a private room, or your home if it is big enough.
Backyard or park parties are great because guests can stretch out and play games, providing the relaxing atmosphere of a chill hang-out.
3. Theme
A theme is fun, but don't feel the need to go overboard if it is not within the budget. Some fun ​​diaper party themes are a BBQ, sports, survivalist, call of doody (great for gamers), and the most common beer diaper party.
When thinking about diaper party ideas, think of the dad-to-be's interests and hobbies, favorite colors, favorite sports teams, or movies. There is no wrong answer as long as it appeals to your guest of honor!
Using the beer and diapers theme, you could create a diaper keg with diapers, ask each guest to bring a six or 12-pack of dad's favorite brew along with diapers and wipes, and even play some fun games like a baby bottle chug!
4. Invitations
Even though a diaper party is more informal, you should still send diaper party invitations. You can choose fun printable invitations that match your theme. Most pharmacies and stores with photo centers can create same-day invites from various stock themes.
You can also make your diaper party invites e-vites sent online or use Facebook events to create a private event and invite gues that way. Some people may choose to do a variety of invitation styles to ensure everyone receives the message.
Allow for a text or emails RSVP to keep it simple and make guests more likely to respond. The invite should include the time, place, whether or not plus-ones or family are allowed, and what to bring as a gift.
5. Decorations
Most likely, a group of men sitting around a diaper party drinking beer and playing games isn't going to pay much attention to decorations. Nevertheless, you should have a few simple diaper party decorations.
Some oversized beer and baby balloons are an option. In addition, you could get plates, napkins, and table cloths to match the theme. Perhaps even have a banner made to hang up honoring the dad-to-be.
You might also want some type of decoration indication where gifts should be left. For example, a big sign that reads "Drop Diapers Here!" hanging over a table with a couple of balloons is simple yet effective!
6. Food & Drink
Diaper party food can be simple and stress-free. For example, you could organize a cookout and potluck-style event, order some sub platters with chips, or even get some pizza! The idea is to keep the party casual and fun.
Beer is the most common diaper party drink, but mixed drinks, sodas, and even wine works. It depends on the dad-to-be's tastes and the theme of the party. For example, chilled white wine goes great with grilled chicken and BBQ, but so does beer or a Coke.
To keep costs down, consider making it a BYOB event and simply suppl soft drinks and bottled water.
7. Activities & Games
Some people enjoy playing games at a diaper party. Diaper party games can be a fun way to get all the guests active and make the gathering more meaningful than a regular cookout. Diaper party activities should be simple, fun, and active.
Diaper party ideas for guys are a bottle chugging contest, one-handed diaper changing race, baby food guessing game, and stroller racing.
Bottle Chugging Contest – Fill baby bottles with beer and see who can chug the beer the fastest. This can be done individually or in teams like a relay. 
One-handed Diaper Change Race – Pair guests off and race to see who can change a diaper quickest with only one hand using a doll and baby diaper. You could also play this game blindfolded instead of with one hand. 
Baby Food Guessing Game – A classic baby shower game but one that dads can have fun with too. You can either have participants guess by smell and taste or simply by looking. 
Stroller Relay – You'll need two strollers and two baby dolls. Don't strap the baby doll into the stroller; teams race back and forth to see which team is fastest. You must go back and start over if your baby falls out. 
Gift Ideas for Dads-to-Be
Diaper party gifts usually include diapers, wipes, and other baby care essentials. If you're unsure what type of diapers to bring, ask the host if the parents will be using cloth diapers or organic diapers.
Parents may have specified diapers on their registry they prefer to use. If it is a cloth diaper party, purchase the brand specified. Gift cards for the parents-to-be to dine out or order take-out or gift cards specifically for dad are other options.
Parenting books geared towards dads and partners, utility diaper bags, and their favorite beer or bar items are other good options.
What gift you decide to bring depends on the guest of honor. If you're hosting the diaper party, list where the couple is registered and suggest ideas.
Diaper Party Ideas
There are some funny and creative things you can do at a diaper party to help create the atmosphere. Knowing your audience and what people will fund humor and fun is important. In addition, consider if this is a first or second baby. Different diaper party ideas may be more suitable for a first-time dad than someone who already has a child.
Decorate a beer keg with diapers and pacifiers
Have guests sip beer out of baby bottles
Make a diaper cake from beer cans and diapers
Pacifier cornhole toss
Make diaper party favors using a pint glass, butterscotch candy, marshmallows, or white mints.
Play diaper pong
Have unique labels made to put on dad's favorite beer or soda
Purchase a large plastic bucket and label it "New Dad Survival Kit," and have guests bring items like candy, coffee, snacks, pain reliever, sodas, toiletries, etc.
Hold a diaper raffle, so one or two lucky guests will win a great prize!
Ask guests to wear fun t-shirts about babies or parenting
FAQ
Are diaper parties a thing?
Diaper parties are becoming a trend among younger parents, especially for the first baby. They are a fun, relaxing way for dads and partners to have a special gathering.
Why do people have diaper parties?
Some couples have them because dad isn't interested in a traditional baby shower. Others have them because they are a more informal setting to hang out with friends and close family.
Does mom go to the diaper party?
It depends on the couple. If mom wants to attend and the event is co-ed, she certainly can. It really just depends on the couple's preferences.
What is a Huggies and Chuggies party?
A Huggies and Chuggies party is another name for a diaper party. Other names are Pampers Parties, Beer and Diaper parties, and Man Showers.
What is a diaper sprinkle party?
A diaper sprinkle or a baby sprinkle is a party held for parents if this is not their first baby. Typically a diaper sprinkle is a way for parents to restock baby essentials like diapers, wipes, pacis, toys, and clothing.
Who throws a diaper party?
A diaper party should be held by a close friend or family member of the dad or partner. It could be one person hosting, or a group of friends could work together to plan the party.
When do you have a diaper party?
A diaper party is typically held a few months before the baby is due. You can hold it at the same time as the baby shower or a separate event at a different time.
What diapers to buy for a diaper party?
Ask the host if the parents have specified a brand or type of diaper they wish to use. You can also look on their baby registry to see if they have any diapers listed.
How many diapers to bring to a diaper party?
One pack of diapers is adequate per guest. If you can bring a case or two packs, that is also ok. Make sure you include a gift receipt in case the parents need a different size or brand.
What to buy for a diaper party?
If you're hosting, you'll need to provide food and beverages. You'll also need decorations, plates and tableware, supplies and prizes for games, and party favors.
How to make diaper party favors?
Beer-themed or alcohol-themed favors are standard items. Check out ideas online to get inspiration. Generally, a party favor should only cost a few dollars per person.
What size diapers for a diaper party?
Ask the host if the parents are requesting a specific size. It is always a good idea to buy size one, two, or even three diapers instead of the newborn since babies quickly grow out of the size.
What to bring to a diaper party?
Typically, a pack of diapers is the guest's main gift, but ask the host if you can bring anything else. Some couples may appreciate gifts from their baby registry, or there may be other useful items like gift cards.
What do you do at a diaper party?
A diaper party is a chance to hang out and relax with the dad or partner and their friends and close family. You can play games or have other activities. Food and drinks are served.
What is a diaper keg?
A diaper keg is another name for a diaper party or a Huggies & Chuggies party. It is considered a baby shower for men or dads.
Who should be invited to a diaper party?
The dad or partner's close friends and family. A diaper party is typically for men, but women can come too. This is not necessarily the event for your great aunt or your cousin's 5-year-old.