Diaper Shower: The Beginners Guide (incl. Gift Ideas)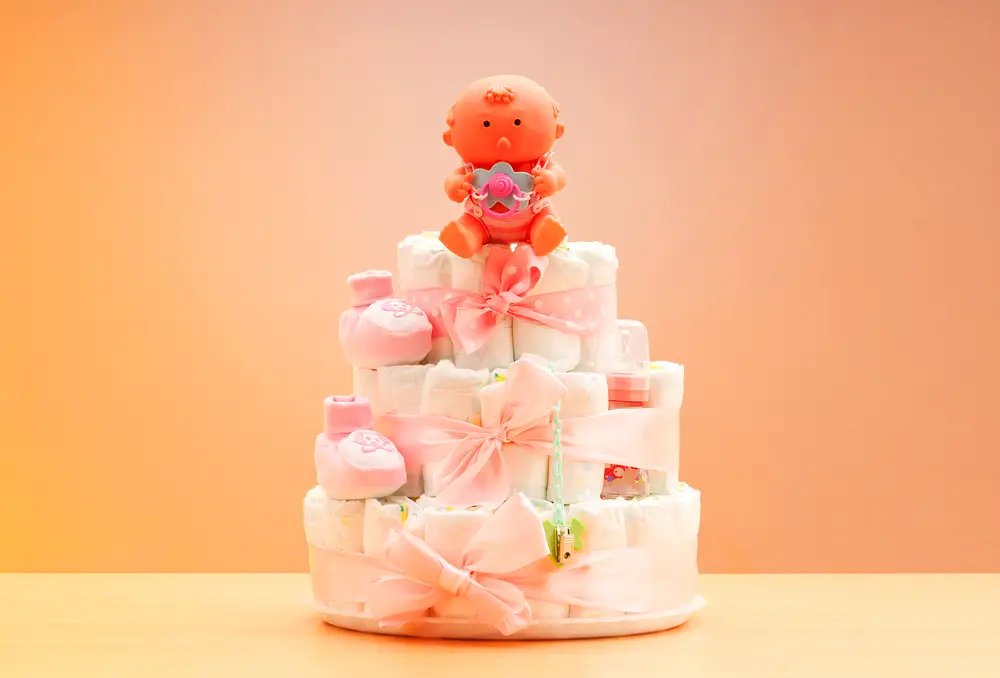 A new baby is a wonderful reason to celebrate, and diaper showers are ideal for parenting expecting a second or third baby. A diaper shower is a scaled-down version of a baby shower. It is often less formal, and gifts are comprised mainly of diapers, wipes, and baby essentials.
What is a Diaper Shower?
A diaper shower is a watered-down version of a baby shower. The purpose of a diaper baby shower is to supply parents with everyday baby essentials they need for a second or third baby.
Diaper showers are sometimes called a Pampers Shower or Baby Sprinkles because parents don't need all the baby gear they needed for their first child.
These gatherings are an opportunity for friends and family to celebrate the arrival of a new baby and help parents get the gear they need to prepare for baby number 2.
In addition to diapers and wipes, baby toiletries, clothes, and new toys are common gifts.
Diaper Party vs. Diaper Shower vs. Baby Shower
A diaper party is primarily a diaper shower for men or partners. However, a diaper shower is a party for the mom or both parents where the major gifts are diapers and wipes. A baby shower is usually a significant event for first-time parents to shower them with all the gear they need. 
| | | | |
| --- | --- | --- | --- |
| | Diaper Party | Diaper Shower | Baby Shower |
| Who is Invited | Partner-to-be friends, some close family | Close friends, and family of both parents. | Friends and family of both parents. |
| Invitations | Yes | Yes | Yes |
| Theme | Possibly | Possibly | Yes |
| Decorations | Not typically | Yes, some | Yes |
| Food | Finger food and BBQ, Pizza, Cookout | Finger food, sandwiches, salads, desserts | Tea sandwiches, fruit trays, veggies trays, salads, cookies, cupcakes |
| Drinks | Beer & mixed drinks | Wine & sodas | Wine & sodas |
| Games | Yes | Yes | Yes |
| Favors | Not typically | Possibly | Yes |
| Diaper Raffle | Yes | Yes | Yes |
| Prizes | Yes | Yes | Yes |
| Gifts | Usually diapers or wipes | Usually diapers or wipes, or new clothing especially if the new baby is a different gender | Yes, typically anything from the baby registry, gift cards, and diapers |
Why Have a Diaper Shower?
Having a diaper shower is an excellent idea if you are already parents but need to restock some essential baby items like diapers, wipes, toiletries, etc. You can decide if you want a diaper-only baby shower or if you need new items like clothing, blankets, or nursery decor. You may need new clothes if your baby is being born at a different time of year than your first or if you're expecting a different gender.
A diaper shower is a fun excuse to hang out with close family and friends, relax and celebrate the upcoming arrival of your new baby.
How to Throw a Diaper Shower?
A diaper shower is similar to a baby shower. You will need a location, invitations, and a theme. In addition, you should plan games or activities, prepare prizes and favors, and plan a menu.
1. Guest List
Diaper shower guests should include close family and friends of the parents. Diaper showers can be exclusively for the female members of the family, or they can be co-ed. It is really up to the couple's preference. Many dads and partners like to be included in these events too!
If the shower is a surprise, have the host ask family and friends for a list of names, emails, or addresses. However, If the shower is not a surprise, ask the couple who they would like invited!
Make sure you don't hurt anyone's feelings and invite aunts, cousins, and friends, even if they live far away and might not be able to attend. You can also consider using a virtual feed for people too far to come in person.
2. Location
There are many appropriate diaper shower locations. For example, you can hold it at your home or the home of one of the grandparents or aunts. Other great options include a restaurant with a private room or a small hotel ballroom.
Less formal locations include a park or outdoor tent. If your backyard is big enough, you could use that space. You could also rent a fire hall or local club.
The size of your location depends on your budget and the size of your guest list. If hosting a large shower, consider co-hosting with another friend or relative to split the cost.
3. Theme
If you search online, you'll see that diaper shower ideas are endless! ​​Diaper shower themes range from ultra formal and luxurious to backyard picnics and tea parties. When choosing a theme, it is essential to keep the parents' likes and dislikes in mind.
Some people choose to go with a generic "It's a Boy" or "It's a Girl" theme, and gender-neutral showers are becoming the norm too. One example is to base the theme on the nursery decor the parents chose. So, if they choose purple and green elephants have elephant cookies made, decorate using purple and green, and create diaper shower favors like bottles filled with purple and green jelly beans.
Your budget may determine how extravagant the baby diaper shower theme is, but even on a limited budget, you can be creative and fun!
4. Invitations
The diaper shower invitations should match the theme of the shower. You can order diaper shower invites from any store or pharmacy that does photography, often ordering on the same day! You can customize most invites to add photos and graphics, and you may even be able to change the colors and font style.
Don't overcrowd the invitations with fancy fonts or too much info. They should include the date and time, location, address, RSVP method, and where the parents are registered.
If you're holding a diaper and wipe shower only, include that on the invitation specifying what brand and size diapers to bring and the brand of wipes.
5. Decorations
Decorations are one of the most fun aspects of planning a shower. The diaper shower decorations should be theme related. Party stores sell decorations in every color! So if your theme is color based, start there. You can also find baby-themed balloons and decor.
Some shops make customizable banners, signs, and labels that can go on wine bottles or candy packs. However, these types of decorations take time, so plan ahead if you're going this route.
Decorations for a diaper baby shower don't need to be over the top. Instead, simple and fun should be your goal. The decorations should tie the theme together.
6. Food & Drink
Options for ​​diaper shower food are abundant! A common idea is a tea-party-style meal with finger sandwiches, fruit and veggie trays, salads, and cookies. You could also do warm food using crock pots and serve things like meatballs, mac n cheese, BBQ, or soup.
Serve a variety of desserts like cookies or candy, but a diaper shower cake or themed cupcakes should be part of the meal.
Many people serve wine and soft drinks at diaper showers. However, since the mom-to-be cannot drink wine, ​​diaper shower drinks could consist of sparkling water and non-alcoholic beverages. Consider your guest list and shower theme.
7. Activities & Games
Most guests love engaging in diaper shower games. Games like ABC baby names, guess the baby food, and "don't say baby" are popular. Some diaper shower activities should be contests or raffles with prizes, and others can simply be fun, entertaining activities.
ABC Baby Names – Create or purchase a template with each alphabet letter with a corresponding line. Then, guests compete to see if they can create a baby name for each letter.
Baby Name Combo – Write both parents' names on a whiteboard or large piece of paper and hang it up. Pass out paper and pencils and see who can create the most baby names using only the letters from the parents' names. 
Don't Say "Baby" – Guests are given a pacifier necklace or pin when arriving, and the rules are explained. If another guest hears them say, baby, they get to take their pacifier. At the end of the shower, the person with the most pacifiers wins. 
Guess the Age – Create a display with pictures of parents are various ages. Number each photo. Throughout the shower, guests write guesses on paper. The person with the most correct answers wins. Grandparents and siblings are excluded.
Guess the Celebrity Baby – Create a display with celebrities as babies. Throughout the shower, guests write guesses on paper. The person with the most correct answers wins. Be sure to include celebrities of all ages so grandparents and young cousins both have a chance of winning!
Gift Ideas for Mom-to-Be
Diaper shower etiquette differs slightly from a traditional baby shower. However, diaper shower gifts are still customary. Since the main idea of a diaper shower is to supply diapers, wipes, and other essentials, the host to ask parents if they plan to use cloth diapers, non-toxic diapers, or have a preferred diaper brand.
If the parents are cloth diapering and it will be a cloth diaper shower, it is essential to specifically state the brand and size of diapers the parents would like. You can also ask for gift cards and other baby essentials like towels, clothing, and toiletries.
Giftcards to mom's favorite stores, restaurants for take-out, and spa gift cards are other excellent ideas!
Diaper Shower Ideas
You can do so many fun things at a diaper shower to ensure everyone has a great time! Some of our favorite diaper shower ideas are a onesie-making station (or t-shirt-making station for the older sibling), a diaper cake, a diaper raffle, and a hospital survival kit.
Onesie Station – Create an area with plain onesies (or t-shirts for older siblings) and fabric markers for guests to make items for the baby and big sibling.
Diaper Cake – Create a fake cake from diapers as a decoration and a gift for mom. 
Diaper Raffle – Ask guests to bring a pack of infant diapers. They will receive a raffle entry for each pack they bring.
Hospital Survival Kit – Have guests bring items to help mom and partner get through labor—candy, hair ties, spa items, snacks, puzzle books, mints, etc.
Mom-Pamper Kit – Have gusts bring items to pamper mom before and after the baby arrives. Spa items, lotions, coffee, wine, candy, treats, etc.
Diaper Notes – Set out a bin of diapers with permanent markers and ask guests to write a note on the diaper to give mom and dad some encouragement during diaper changes!
Guess Who Games – Get the dirt from the grandparents and create a "Guess Who guessing game about the parents. It can include things like "Guess who ate all the Christmas cookies in one night?" or "Guess who broke their arm at five falling out of a tree."
Gift Card Collection – Ask guests to bring a $5 or $10 gift card to one of mom's favorite restaurants or shops. She can use them post-baby to order treats and meals for her and her partner. 
Baby Shower BINGO – Create or purchase Baby Shower BINGO cards and play to win small prizes.
Measure the Belly – Have guests guess how wide mom's belly is – the person who is the closest wins a prize!
FAQ
Why do people have diaper showers?
A diaper shower is a fun way to celebrate a new baby if the parents don't need all the baby gear typically given at a baby shower. A baby shower for diapers supplies parents with just the essentials.
Who throws a diaper shower?
Typically a close family member or friend throws the diaper shower. You could get together with a few close friends or siblings to save costs and host as a team.
When do you have a diaper shower?
A diaper shower is typically held two to three months before the baby is born. Since parents won't have as much gear to assemble and prepare, it could be held as little as one more before the baby is due.
What diapers to buy for a diaper shower?
Check with the host to see if the parents have specified a brand or type of diaper. If nothing is specified, purchase sizes 1, 2, or 3 since most babies outgrow newborn size quickly.
How many diapers to bring to a diaper shower?
Typically one pack of diapers is standard. However, if you can afford to bring a case or several packs, go ahead! Include a gift receipt in case they need to be returned or exchanged.
What to buy for a diaper shower?
To prep for a diaper shower, you need to purchase food and drinks, decorations, supplies, and prizes for games and invitations. How much you purchase depends on your diaper baby shower ideas.
How to make diaper shower favors?
Many cute options exist. Baby bottles filled with jelly beans or candy are popular. Custom-made cookies, mini wine bottles with customized labels, and spa items are also great ideas!
What size diapers for a diaper shower?
It is recommended you bring sizes 1, 2, or 3 to a diaper shower. Most babies grow out of the newborn size within a few weeks, and some babies are too big from birth!
What to bring to a diaper shower?
A pack of diapers and wipes is standard. However, if the parents are registered for additional items, consider purchasing one of those as well.
What do you do at a diaper shower?
Diaper showers are less formal parties to relax and celebrate a new baby. Games and other activities are typically held, and people enjoy food and drink.
Who should be invited to a diaper shower?
Diaper showers are usually smaller than baby showers, but it is up to the host and parents. The host should invite grandparents, close family, and friends.
What does a diaper shower consist of?
A diaper shower is a simple party celebrating a new baby's arrival. There is simple food and drink, games and activities, and themed decor. People relax, talk, and have fun!
What is a diaper exchange at a baby shower?
Parents can bring diapers their baby has outgrown to exchange with parents who may need them. A diaper exchange can be done with disposables or cloth diapers. You could also exchange baby clothing and toys.
What is a sprinkle shower?
A sprinkle shower is another name for a diaper shower however it typically involves receiving additional gifts besides diapers. It is also called a Baby Sprinkle.