Flat Cloth Diapers: The Beginner's Guide (2023)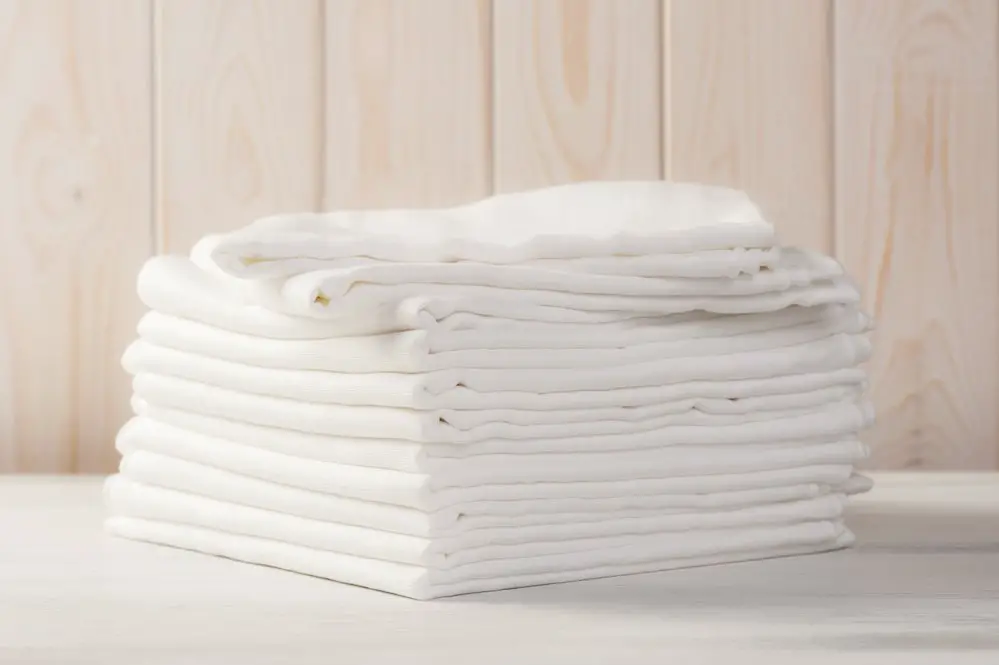 Flat cloth diapers are the most basic and traditional style of cloth diapering. Flats are probably what many people think of when they picture cloth diapering, a flat piece of fabric fitted around a baby's bottom and attached with diaper pins.
Flats have evolved quite a bit since cloth diapering began, but the basics are still the same. Flats are not for everyone, and they require some skill and know-how, but once you get the hang of it, they are the most economical and most straightforward way to cloth diaper.
What Are Flat Cloth Diapers?
Flat cloth diapers are thick absorbent pieces of fabric that are then shaped around your baby's bottom in the shape of a diaper.
Cloth flats require separate fasteners to keep them around your baby's waist. Some parents choose to use traditional diaper pins, while others use Snappi fasteners.
Cloth diaper flats are the most economical type of cloth diaper and the most widely used worldwide. The majority are cotton flats; however, there are different types of cotton and bamboo and hemp ones available.
Diaper flats are considered the original one-sized diaper since they can be adjusted and formed to fit children from newborn through the potty-training years.
Cloth flats require a diaper cover to make them waterproof. Covers can typically be worn several times in a row before requiring a wash; another reason flats are so economical!
Covers are typically made from fleece, hemp, or wool, although some people use PUL covers.
Prefolds vs. Flat Diapers
A prefold diaper is similar to a flat in that it is a piece of fabric that must be shaped around your baby. The difference is that prefolds have a thick, padded section sewn into the middle that works as the absorbency zone.
Prefolds, like falts, are cost-effective and once you understand how to fold and fit them on your baby are easy to use. Traditionally, prefolds are made from cotton, but more modern styles are made from hemp and bamboo blends.
Prefolds cut down on some of the folding you need to do with a flat, but that also means you are limited in the number of ways you can fold them. They will still need fasteners and covers just as flats do.
Cost-wise, they are basically the same; it will depend on materials and brand. On average, you will spend about $15 for a ten-pack of prefolds or flats.
For Whom are Flat Cloth Diapers Best for?
Flat fold cloth diapers are best suited for two groups of people: those who want or need to cloth diapers on a budget and those who are experienced with cloth diapering.
There is no arguing that flat fold diapers are the least expensive style of cloth diapers; you can get about ten to twenty flat diapers for the price of one all-in-one diaper. That being said, they have a few extra accessories needed and have a learning curve.
Another significant benefit to flats is that they can go in the dryer on a medium heat setting, whereas all-in-ones, pocket diapers, and hybrids usually cannot or should not.
Of course, line drying in the sun is always best, but if you live in an apartment with no outdoor space for drying, the ability to use a machine is a benefit flat diapers have.
Learning to fold a flat diaper is going to take some practice, so you may want to purchase a life-size baby doll to get get the technique squared away before your baby's arrival. The good news is once you have the skill down, you'll be ready for your next baby or to teach any friends and family who are interested.
Also read: Best Flat Cloth Diapers
What Materials are Used in Flat Cloth Diapers?
Traditionally a flat diaper would have been made out of cotton, which is still the prevailing fabric. But, you can also purchase bamboo flat diapers, hemp flat diapers, and blends. Cotton flat diapers will typically be birdseye cotton or organic cotton.
Organic flat diapers cost about the same as regular birdseye cotton, so they are still cost-effective if you prefer to use unbleached, natural flats.
Hemp diapers will cost more than 100% cotton, but they provide a few benefits that might make them worth the extra cost to you.
Hemp is more breathable and absorbent than cotton, but it is also an extremely durable fabric which means you will get a lot of use from them. You might want to consider a hemp blend if you think you'll be using the diapers for more than one child.
Bamboo blended cloth diapers are stretchy flats making the fabric a bit easier to work with. Bamboo blends also add softness to cotton and are less likely to become stiff and scratchy with repeated washings.
How Much Do Flat Cloth Diapers Cost?
A folding cloth diaper typically costs about $10-$30 for a 6-12 pack. The price is relatively consistent across brands and whether you opt for traditional cotton or organic cotton.
And, when you consider that one all-in-one, hybrid, or pocket diaper can cost you upwards of $15-$30 apiece, and a newborn goes through roughly 15 diapers, the price difference can get enormous.
In comparison, a six-pack of bamboo-cotton blend flats will cost about $20-$25. Hemp blended flats will run about $6-$10 each. One additional downside to hemp and bamboo blends is that they are much harder to find than cotton flats.
In addition to your flats, you will need to purchase pins or fasteners as well as waterproof diaper covers. On average, diaper covers will cost you $15 each, but keep in mind you will only need two or three a day at most. So if you plan to do laundry every other day, you could comfortably get by with as few as six to eight covers.
Benefits of Flat Cloth Diapers
Flats that fold are versatile and can be used as burp cloths, towels, cleaning rags, and more once they are no longer needed as diapers. Flats are cost-effective, absorbent, and the least likely style of cloth diaper to leak.
Folding flats may appear tricky, but with a bit of practice will become second nature. Different ways of folding flat diapers include the origami fold, angel wing fold, jelly-roll fold, and pad fold. Experiment and figure out which works best for you!
Flat diapers are simple to wash and dry quickly; they can also be placed in the dryer if necessary. In addition, they are less bulky than all-in-ones, pockets, or hybrids so they take up less space in a diaper bag or changing table.
Flats are also less prone to build-up, stains, and odor because they are made from natural fibers which are easy to clean thoroughly.
Downsides of Flat Cloth Diapers
Many people consider it a con that you have to fold them and fit them to your baby to use flat diapers.
Simple flats are simple for a reason; there is no fluff or extra included. If you are looking for easy, quick diaper changes, flats might not be the best option.
Another downside is that it is a two-piece system, so you have to purchase additional covers. They also lack a stay dry level which means more frequent diaper changes.
Flat diapers require you to fasten the diaper around your baby with pins or fasteners; if you have a fussy, squirmy baby, this step can become frustrating and cumbersome at times.
How to Use Flat Cloth Diapers?
To use a cloth diaper flat fold, you must first lay the fabric out flat. There are multiple tutorials online on the different folding methods of flat cloth diapers, so we recommend that you check those out and practice the various folds.
Once you have the fabric securely around your baby, you will need to fasten it with pins or fasteners. Once the diaper is secure, you place a waterproof layer over the top.
Some people choose to use booster pads in the diaper for extra absorbency at night.
When it is time to change a soiled diaper, check the cover to see if you can reuse it. Unless the cover is wet, stained, or smells, it is ok to reuse it. Clean any poop out of the diaper and place it in the diaper bin.
Wash your flats with a detergent approved for use with cloth diapers and line dry in the sun if possible.