12 Real Ways to Get Free Diapers (for Low-Income Families)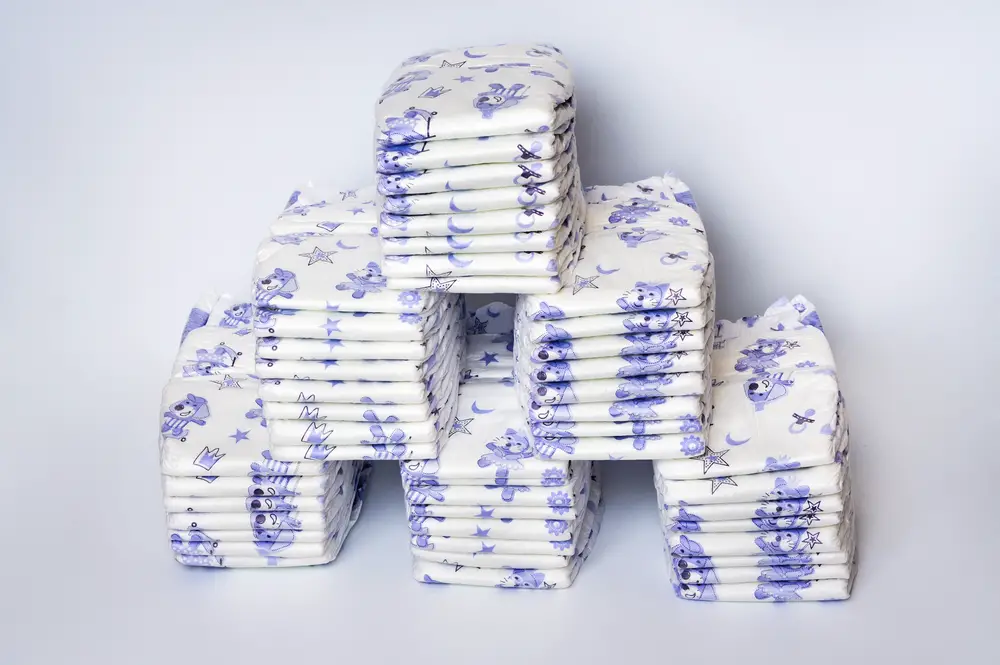 Diapers are one of the most significant costs new parents face. The average baby goes through 2,500 diapers their first year. For parents struggling financially, the cost of diapers can become a burden.
However, there are many ways to get free diapers through their community or social programs. This article looks at some of the easiest ways parents can obtain diapers at no cost.
How to Get Free Diapers?
1. National Diaper Bank Network
The National Diaper Bank Network is a large, non-profit organization with branches nationwide. Huggies is a founding member of the NDBD and donates twenty-million diapers annually to the organization.
To obtain free baby diapers through the National Diaper Bank Network, you need to locate your local community diaper program. There are 225 member branches nationwide. You can locate the closest bank to you by accessing their member directory.
Each member bank has an individual website and way they run their diaper program. However, diapers are often distributed through local food pantries, churches, libraries, and medical centers. Different locations will have scheduled times parents can pick up diapers and sometimes other necessities like wipes, baby food, and supplies.
The NDBN also collects donations of women's sanitary items, which may be available along with diapers at various locations.
2. 2-1-1 Diaper Assistance
Diaper 2-1-1 is the 9-1-1 of diaper help. You can either dial 2-1-1 on your phone, and you'll be connected to an emergency specialist. 2-1-1 is for non-medical emergencies. For example, if you need help getting food, paying bills, or help with diapers.
2-1-1 is not just for parents and necessities related to children; they can also help individuals find mental health treatment, disaster recovery, or COVID-related recovery. So no matter why you need diaper assistance, 2-1-1 is there to help.
If they cannot set you up with free diapers in your area, they may be able to set you up with programs that cover other expenses such as food and housing utilities. And as a result, these programs free up money to purchase diapers.
3. Local Church
A local church, synagogue, or other places of worship is an excellent resource when you need help covering the costs of diapers and food. Churches are often sites for the National Diaper Bank Network; others run regular food pantries, including household goods like diapers and toiletries.
You can also check with local churches or religious organizations like Catholic Charities USA to ask about annual diaper and baby item drives. In addition, many churches offer parenting and pregnancy support to pregnant moms and mothers, regardless of income.
Most churches are willing to help anyone in need, regardless if you are a church member or a different religion. If a particular church you contact isn't able to help, they can likely put you in contact with a local free diaper program.
4. County Social Services
Social services often get a bad rap for being overextended and challenging to navigate, but with perseverance and guidance, these programs work and help people.
To qualify for social service programs, you must prove you are a low-income family. Income brackets vary based on state and program. For example, to qualify for SNAP (Supplemental Nutrition Assistance Program), a household of two must have a net income lower than $1452 per month.
You cannot purchase diapers with SNAP, but you can purchase food and non-alcoholic beverages. WIC (Woman Infant Children) is a program for pregnant and postpartum women, infants, and children up to five. It helps mothers and young children receive the nutrition they need and covers baby food and formula.
While these programs don't offer free diapers and wipes, they free up money so parents can reallocate funds to purchasing diapers. To get started, you need to contact your local Social Services Office.
5. Pediatrician's Office
If you're struggling to afford diapers, ask your pediatrician if they have any diaper freebies or baby diaper coupons. Doctor's offices get a lot of freebies, including vitamins, medication, baby formula, diapers, and other baby goods. But unfortunately, these items often go unused or sit in a closet, forgotten about until someone asks.
Some parents may feel ashamed to admit to their doctor they are struggling to avoid basic needs, but you shouldn't be; it's more common than you think! Your doctor may be able to send you home with a pack of diapers, wipes, and other goodies for your baby, as well as connect you with local organizations that can help.
Before leaving the hospital, you should also ask for any diaper samples or supplies they can send home with you, including iced perineal pads for mom!
6. Free Diaper Samples
Companies want to make you a customer for life, so if you contact them, they often send free diaper samples to showcase how superior their product is compared to the competition.
Companies are particularly keen to send newborn diaper samples to make you a customer from the start. All you need to do to score diaper samples is contact customer service and ask!
Click the links below to learn how to receive free diapers from the following companies:
If you register on various baby sites, companies will sometimes mail you a free diaper or two or samples of wipes without asking. Baby stores may also have samples they give away as promotions. 
Also read: 6 Disposable Diaper Alternatives (Eco-Friendly Options)
7. Rewards & Loyalty Programs
Many diaper brands offer repeat customers diapers for free through their loyalty or rewards programs. Other companies offer discounts when you have a subscription plan which could save 10-20% off retail.
The Huggies reward system allows you to snap a picture of your receipt with your phone and earn points you can redeem for items. For example, you can earn points for purchasing over 500 brands.
Pampers has an app that earns points and rewards you in Pampers cash and diaper coupons. However, parent reviews claim that redeeming points is a frustrating process.
Luvs doesn't offer a free diaper program, but if you register on their website, they'll send you money-saving coupons.
Target's Circle program is another way to score points and earn discounts on much-needed baby items. It is free to sign up, and there are new deals and exclusives for members each week.
If you have an Amazon Prime membership, you can order your bay diapers and other necessities with their subscribe and save option. It typically saves buyers 5%, but discounts can go as high as 15%.
8. Free Cloth Diapers
Cloth diapering is more costly upfront but saves parents money in the long run. So, if you think you may need diaper help along the way, investing slowly in cloth diapers is beneficial. You can get free cloth diapers from some organizations or purchase used ones through diaper exchanges or thrift stores.
The Cloth Option Inc. supplies free diapers for low-income families who qualify. Through this program, parents can receive 20 free newborn diapers, 15 infant diapers, or 10 toddler/potty training diapers.
Share the Love is another group that will give parents in need a minimum of 15 free diapers. All diapers received, parents must give this organization back once their baby has grown out of them so they can pass them on to another family.
Cloth for Every Bum is a non-profit that gives families 6-months of free cloth diapers regardless of income. The only qualifications to receive diapers are that you live in the continental United States and have one child under 24 months old.
9. Baby Registry
Baby registries are another way to get free diapers. However, if placing diapers on your registry, be conscious of sizing.
You don't want to receive multiple boxes of newborn size that your child will likely outgrow before they can use them. Also, always ask for gift receipts on registries, any free diaper is great, but if your baby is allergic or it's the wrong size, it won't do you much good!
You can also ask the person organizing your shower to include on the invite that each guest bring one package of diapers.
Many sites give parents a free "Baby Box" for creating a registry on their site, which may contain free disposable diapers and other newborn goodies.
10. Giveaways
Free diaper giveaways may be a long shot, but they are a chance to win diapers. Some stores that specialize in baby gear may have diaper giveaways for a chance to win everything from a box of diapers to diapers for a year!
Diapershower.com gives parents a chance to win one month of free diapers; you can also enter the Huggies Year Of Free Diapers Contest. Nicki's Diapers sends a gift with your purchase of $49 or more.
Look for local giveaways on Facebook, Craigslist, and Freecycle. Parents who end up with a pile of unused diapers their baby outgrew are usually willing to give them away since shelters cannot accept unopen packs. Just be sure to meet in a public place and not share too much of your personal information. Check out a Buy Nothing group on Facebook and put up a post looking for diapers.
11. Free Coupons
Coupons for free diapers and other discounted and free baby items are all over the place if you know where to look. First, pick up a Sunday newspaper and clip coupons the old-fashioned way. Then, visit the manufacturer's websites and sign up to receive coupons via email. Some stores text you coupons or deals or send them to their app on your phone.
Grocery stores and pharmacies always have sales or two-for-one specials. Sign up for free loyalty cards for all your local shops to ensure you never miss a deal. Some stores will even let you combine coupons with specials or sales, saving you even more cash.
If you can afford it, buy diapers in bulk, especially when they're on sale or promotion.
12. Elimination Communication
If the idea of scrounging for a diaper-free sample or signing up for ongoing free diaper trials sounds tedious, consider learning elimination communication. Elimination communication is a method of potty training your baby from infancy by recognizing the signals and cues they need to go.
Elimination communication takes a lot of patience and will only work if one or both parents are home full-time with the baby. In addition, it requires many observations and notes in the early days as you get to know your baby.
Many people swear by the method and never have to worry about diapers. Some people combine elimination communication with diapers when running errands or out of the house. If the process interests you, it can save money and is worth looking into.