15 Cloth Diaper Accessories You Actually Need (2023)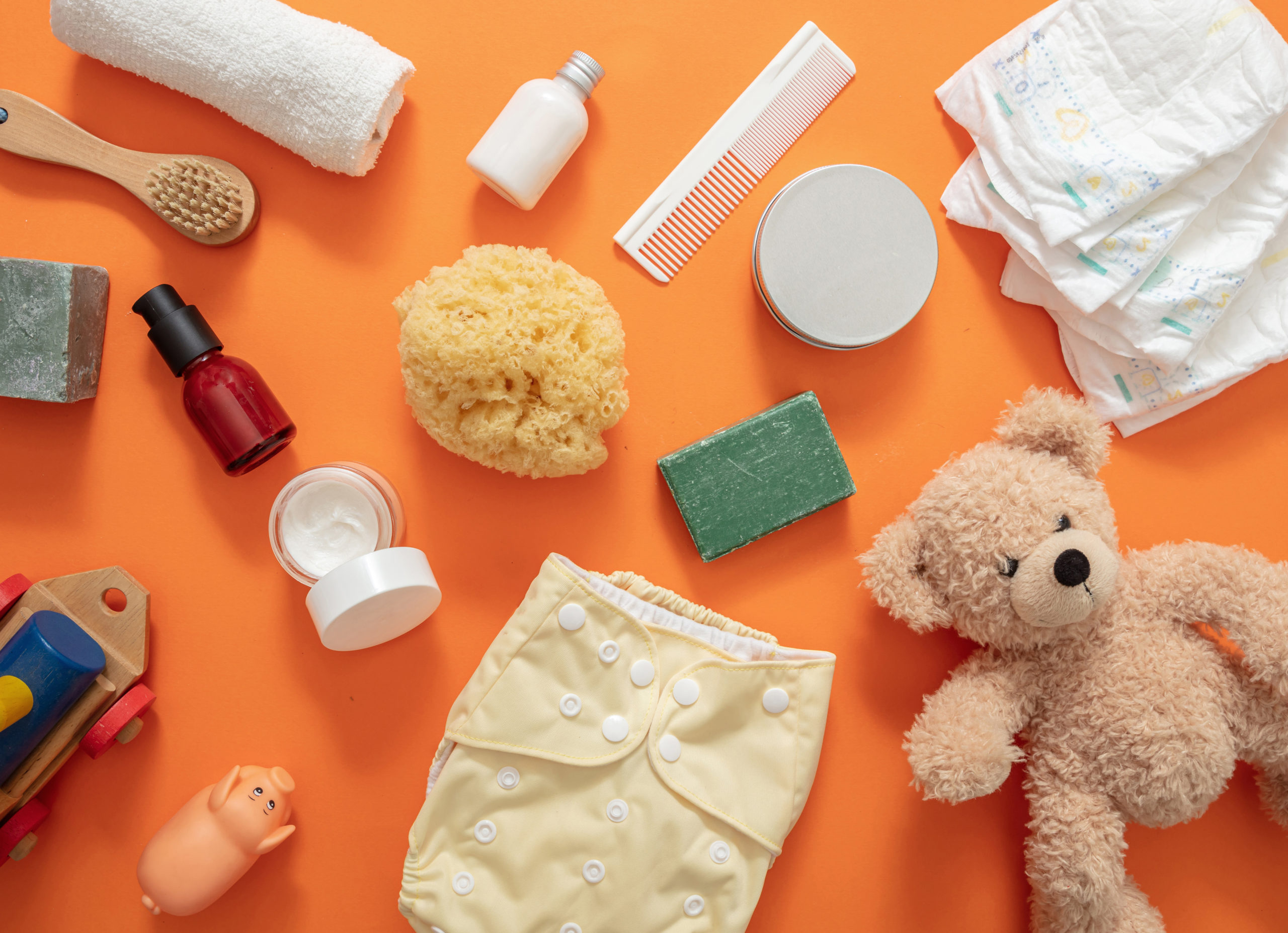 To get the most out of your cloth diapers and to keep them most effective and easy to use, having the right accessories is key. The hard part is understanding which cloth diaper accessory is needed. You want them to make using cloth diapers as easy. Here you will learn all you need to know to make daily cloth diaper use simple.
Cloth Diaper Accessory
1. Cloth Wipes
Cloth wipes are obvious cloth diaper extras. When switching to cloth diapers, using cloth wipes is simple and easy to transition to. You are already washing the diapers, and washing cloth diapers can be added to this load.
You have already made the decision to be more eco-friendly and budget-friendly. By switching to cloth wipes you just enhance these principles even more.
Although not a necessary additive to your stash. Investing in wipe warmers makes the whole process easier. Cheap to buy, they make the whole diaper changing process more pleasant. No longer are cold wipes being used. Warmed, they make the clean-up process easier and the experience more pleasant for your mini human.
Simple to use, simple wetten or use with a wipe solution. Clean your child's delicate area, complete the diaper change. Then place the wipe, diapers and/or inners into your wet bag or pail for laundering.
2. Cloth Diaper Liners
The one thing that parents dislike the most with their cloth diapering experience is cleaning up poop. This is why liners are cloth diaper necessities.
Simple in the design, the cloth diaper poop liners catch the poop. Sold as either reusable or more popularly flushable.
The flushable options make the cloth diaper experience a breeze. They catch the poop. You place it in the toilet and flush it. No more handling of messy poo, dispose of it and continue with your diaper change.
Whether you prefer reusable or flushable, cloth diaper liners are a must have cloth diaper accessory for all stashes.
When shopping for this accessory, consider the material. With cloth diapers your aim is to ensure that when your child wees, the moisture is absorbed quickly. It is this wicking ability that prevents diaper rash. The speed of absorbency is important, along with the strength of the material. You don't want it to tear mid-poop diaper change.
3. Wet Bags
When out and about, or even for daycare, a cloth diaper bag is a must!
You don't want to have soiled or wet diapers rubbing up against your child's spare clothes or food. A wet bag is the solution. This makes it one of the essential diaper accessories.
Allowing you to keep those damped garments separate you can simply pour the contents straight in the laundry or in your pail once home.
When shopping for your wet bag, the size is important. Think about how much you will potentially be storing within it. For a full day out and wipes, the medium to large-sized bags are ample in size to hold multiple diapers at any time.
An added tip is to invest in two of these. That way when one is being washed you will never find yourself without a handy waterproof bag to hand.
4. Cloth Safe Rash Cream
Almost all babies and young children in diapers experience diaper rash. You could argue that it is part of their journey. However, as a parent, it is the last thing you want your child to endure.
There are many creams on the market. However, not all of them are suitable for cloth diaper babies. Without careful consideration, they can cause staining and more importantly impact on the structure of the diaper. In this instance, it can impact on its absorbency levels and hinder the diaper from being effective.
The good news is there are many creams that are effective in preventing diaper rash. Whilst still ensuring that the diaper remains highly absorbent.
The main criteria when choosing suitable diaper cream cloth accessories is looking at the core ingredients. Primarily you don't want a cream that is petroleum-based, it is this that clings to the fibers and impacts on the absorption.
5. Cloth Safe Detergent
All cloth parents know the importance of washing. The laundering aspect is vital in ensuring that your diapers remain effective.
Not only one of the key diapering accessories for cleanliness, it determines how well your cloth diaper will continue to work.
The importance of cloth-safe detergents are that they not only ensure that your cloth diapers get thoroughly cleaned. They also are important in ensuring that no chemicals cling to the fibers impacting on how they handle absorbing your little ones wee.
Of course, it is never as straightforward as picking a detergent off the shelf. You want a detergent that won't leave a residue on your diapers. That way you won't compromise their absorbency capabilities.
When made with natural ingredients you will find that they not only clean but don't hinder the natural aspects which make cloth diapers so effective.
6. Dryer Balls
If you make the decision to place your cloth diapering stash in the dryer, dryer balls are a basic diaper accessory.
Not only do they boost the fluffiness and softness of your inners and cloth diapers. But, dryer balls also offer another cost-saving and eco-friendly advantage.
They can increase the speed at which it takes for your cloth diaper stash to dry. Pounding the diapers, inners and wipes in the dryer, plumps the fibers back up. This not only boosts how soft they become against your baby's skin and take away from the stiff, rough materials. But it also can reduce the overall drying time considerably.
With a reduction in drying time, you will save not only on time, but will also be able to maximize the use of the cloth diapers.
The best dryer balls are made from natural materials such as wool, as they also offer absorbent qualities making the drying time even quicker.
7. Cloth Diaper Pail
You don't want wee (or poop) covered items coming into contact with everyday wear.
This is where a cloth diaper pail comes into its own. With the added convenience of being able to be located by your changing station, you can ensure you have separate dirty cloth diaper storage.
Placing all diapers, wipes, and covers within the pail allows you to build up your pile until you are ready to wash.
When shopping for your basic cloth diaper accessories, you want to ensure the pail does all that is needed. You need to consider the size, the lid and openings.
It is imperative that it is large enough to hold a reasonable number of diapers, the lid fits well to contain any odors and that you can easily place used diapers in easily. You can even adapt and use the diaper genie for cloth diapers.
8. Cloth Diaper Sprayer
When you are changing a poopy diaper, it isn't pleasant. You need to ensure that all of the poop residue is cleaned away thoroughly before you can even contemplate washing the diaper.
This is where the ingenious cloth diaper accessories, the cloth diaper sprayer and sprayer shield, become a must-own item.
Hooked directly to your toilet, you take the soiled diaper and using the sprayer wash the poop and rinse any stubborn marks off. Not only making your laundering process easier, but also saving you handling the diapers in a soaking manner. With the spraying rinsing and shield containing the sprey, cloth diaper clean ups have never been so easy.
When choosing your product you want to make sure that it will provide ample pressure to wash away stubborn marks. Some are pressure controlled giving you the ability to adjust to your requirements.
9. Snappi Fasteners
Unless you are using AIOs or pocket diapers, where the absorbent aspect of the diaper is secured within the natural fit. You will need to consider how you are securing your flat or prefold diaper in place.
Traditionally, this was with pins. However, times have progressed. Instead of risking catching either you or your baby with pins, Snappi fasteners have been created.
This all in one elasticated band secures the diapers in place. Easy to fit, they can be secured with one hand so you can keep your baby in place whilst completing the diaper change.
When heading to the shop, it is worth noting that these cloth diapering necessities are sold in two sizes. There is the infant size and the toddler size. The design in both sizes is the same however one is larger than the other.
10. Cloth Diaper Organizer
For any and all diaper changes you want it to go as smoothly as possible. For your diapers to be handy, the wipes ready, the diaper rash cream to hand along with access to your diaper pail.
It is when you do not have everything you need to hand, that diaper changes can become stressful and potentially messy.
Using a cloth diaper organizer prevents you from ever finding yourself unable to locate all of your must have diaper accessories. With all items accessible and easily located it makes getting your next diaper change easy.
There are many organizer diaper accessories, and with so many options it is important to consider a few points.
Sections, to keep the organizer organized and to allow you to easily locate each item needed.
Secondly, what the organizer is made of. There are many different material options, so select one that you will be able to keep easily clean.
11. Cloth Diaper Drying Rack
Washing your diaper stash isn't the only part of the laundry cycle. The other big aspect is drying them.
It is only once they are dry that they can be reused. Some diapers can be placed within the dryer but this isn't recommended for all.
This is why having a cloth diaper drying rack is one of the best cloth diaper accessories.
Containing multiple cloth diaper hangers you can place your diapers easily on the rack. Not only designed to support the diapers keeping their shape. They are designed to maximize the quantity of diapers being dried in one space. Supporting your less frequent need to wash daily.
When shopping around you want to consider ease of set up, how compact it is when not in use and how many diapers you can fit on it.
12. Backup Diapers
You never want to find yourself in a position where you have no diapers available.
You don't want your child to remain in a soaked diaper and be uncomfortable. This is why it is imperative to have a handful of backup diapers. They don't need to be your favorite, but they do need to do their job.
It is easy when you have a young child to forget about the washing or forget to get them dry in time.
Having a small bundle to act as backup gives you the reassurance of being able to keep your child dry and comfortable.
Backup diapers can be in any range. You may opt to have a pack of disposable diapers at home or a handful of cloth diapers in place as backup.
The important part is to remember these are your backup stash. When you need to use them it is important to get your others laundered for re-use.
13. Extra Inserts
There are times when you need that little extra absorbency.
On those days when your little one is toddling around, playing non-stop and guzzling their milk or water 24/7. Is the day when you know they are going to be heavy wetter. Being able to handle that and be prepared, ensures that your cloth diaper journey is a successful one.
Having extra inserts to hand will provide you the confidence in being able to add extra absorbency when needed. Ensuring that there is no time when your child leaks through or is sat in a wet diaper, irritating their delicate skin.
When opting for your additional inserts you want to choose something that will boost your absorbency and be compatible with your diaper of choice. Options such as bamboo, hemp or cotton provide multifunction options. Due to being compatible within pockets or worn directly against your child's skin, they are popular insert options.
14. Diaper Changing Pad
Waterproof, lightweight, and extremely handy. Diaper changing pads are a must-have item for all diaper bags and home setups.
Not only providing comfort for your child, they are waterproof and wipeable. Preventing your furniture or carpet for wee/poo accidents.
When out and about, using public changing areas isn't always the most hygienic option, or the most comfortable for your little one. This is where the changing pad is ideal. Placed upon the changing station you have the control that your child is comfortable and being changed on a clean surface.
Whether you use cloth diapers or not, this is a diaper accessory that all parents swear by.
When picking your pad consider how easily cleanable it is, how compact it becomes for when you are out and how padded it is for your child's comfort.
15. Cloth Diaper Bag
A cloth diaper bag is a must for all parents. The majority of parents wouldn't necessarily class it as an accessory buy an essential item.
When using cloth diapers, the need for a diaper bag is no different. However, what you require from the diaper bag may differ. After all, you need room for the used diapers, inserts and wet bag to be carried around. Along with spare diapers and the other essentials such as spare clothes, wipes, food etc.
With this in mind, considering the layout of your diaper bag is vital. Along with how accessible the different sections are.
The most cloth diaper-friendly diaper bags contain numerous sections to help separate clean and soiled items. Along with various openings to allow access to clothes, diapers etc without the need to empty the whole bag.