10 Cloth Diapers Stash Essentials You Should Have (2023)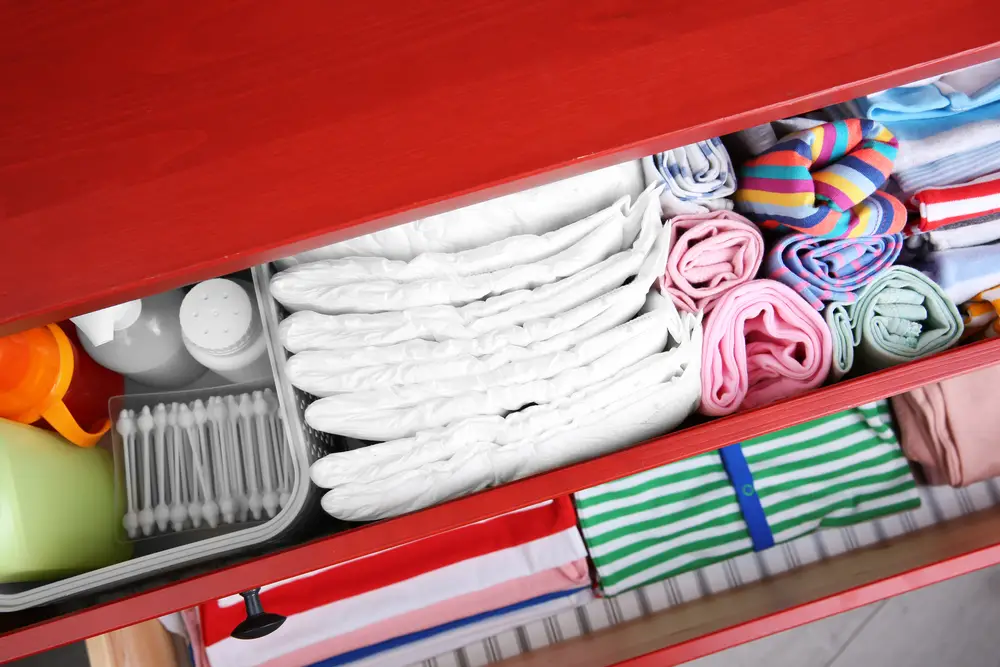 With a baby due, it's vital to get prepared. The last thing you want is to have to haul the baby out to the local gas station because you have forgotten something.
Building up a cloth diapers stash now ensures you are ready. Whether they are early, on time, or late. Now your cloth diaper stash is sorted, you can focus on bonding when your new bundle of joy arrives.
Cloth Diapers Stash
1. Fitted Cloth Diapers
They are designed to grow with your child. Fitted diapers are easy to use. Made of 2 parts, the Esembly inners and outers are highly recommended as providing the easiest way to cloth diapers.
Available for tiny babies and babies, through too potty training, you will be able to get the right fit for your baby.
When building up a cloth diapers stash for beginners. Fitted diapers require fewer outers as you change the inner part more often.
You will want 6 outers for both newborns and older children when starting off. Then approximately 30 inners for newborns reducing to 20 for toddlers per week.
As your child gets older they have bigger wees. At this time, you will want to invest in boosters to absorb more and liners to catch their solid poops. Depending on how often you wish to wash, you will want a roll of liners per 2-3 months and approximately 2-6 boosters.
Opting to buy a cloth diaper bundle will provide you with all of the basics. Plus, they are sold at a discount.
2. Cloth Safe Diaper Cream
Part of the reason why cloth diapers are increasingly popular is due to how gentle they are against sensitive little bums.
Of course, there may still be times when your little one needs a little extra support from diaper cream to soothe any irritation or rash.
With so many diaper creams available, it can be easy to get caught up and just grab any one. When using cloth diapers, using the wrong diaper cream can lead to the diaper's absorbency being compromised or staining.
When choosing a diaper cream to add to your newborn diaper stash and accessories are products that are predominately made from natural ingredients and contain no hard chemicals or additives.
Examples of cloth-safe baby balms are made from coconut oil, which is gentle and provides a barrier to keep moisture from touching your baby's skin.
It won't stain, and with it, hydrating qualities can be used elsewhere on your baby if required.
3. Cloth Baby Wipes
When switching to cloth diapers, it only makes sense that you use cloth wipes as well.
Unlike their disposable counterparts, you know exactly what liquids are being used. Ensuring that they remain sensitive to your baby's bottom, working to prevent diaper rash.
Compatible with both water and cloth wipe sprays, they are more versatile than disposable wipes and essential to any cloth diapering routine. More environmentally friendly, they are also better for sensitive bums.
Simply take dry wipes with you. Then soak with water or a spray on your child's bottom. Wipe the mess, then store the dirty wipe with the diaper for future washing.
As you'll be doing approximately 10 diaper changes per day, you will want 20-35 in your stash.
The size of the wipe is key. You will want 9" x 9" or 10" x 10" to ensure you have enough material for even the messiest of poos.
4. All-in-One Diapers
All-in-one (AIOs) is a ready-to-use cloth diaper option, ideal for building up your newborn cloth diaper stash and starting your cloth diaper journey.
Paired with hybrid diapers and Snappi diaper fastener, you can build up the absorbency and work out what works best for your family.
All components are in-built, making them the closest experience to disposable diapers.
With absorbent elements built into the diaper, they have a waterproof outer. They are one of the easiest cloth diapers to use and don't require as many additional purchases.
The key benefits:
Wash and reuse. Newborn babies require a lot of diaper changes.
Suitable from newborn to potty training age.
A newborn will need 10-15 per day, so having a stash of approximately 36 will save you daily washing. This will decrease to about 4-10 per day as your child gets older.
The GroVia AIOs are a popular favorite and can be sold as cloth diaper bundles, providing all you need at a discounted price.
5. Wet Bags
Wet bags are essential for all cloth-bottomed babies and their cloth diaper routine. They are waterproof lined and provide you with the perfect solution to store wet or dirty diapers when out.
Containing all liquid, they stop any pees or poops liquid soaking out. Additionally, they also contain the odor.
Keeping all soiled items separate and to one side until you are able to wash them. Making them an essential item for any cloth diaper stash list.
For your diaper bag everyday use, you will want 2 wet bags, so you have a spare when one is in the wash. The small will hold approximately 3 diapers while the medium around 5.
Therefore, choosing one that holds enough diapers is important, so you aren't caught short based on your baby's changing frequency.
6. Diaper Pail
You will want to keep all soiled or wet diapers separate from your other laundry.
This is why you need a diaper pail within your cloth diapering system. It is a special laundry basket, bin hybrid. With a lid to keep odors at bay, you place all dirty diapers, wipes, inserts, and reusable liners inside.
Come laundry day, take this load down and start your washing process.
They become even handier when paired with this pail pouch. Popped into your pail, you allow the diaper laundry to build, then take the pouch to your washer.
There won't be any direct handling of the unwashed diapers. Plus, when you are done, just take your cloth diaper stock with you to put them all away.
Ideally, you will want at least one diaper pail. However, they are handy to have at any changing station you have in your home.
Keeping all soiled and dirty nappies together, laundry day just became a lot easier.
7. Cloth Diaper Bag
Your cloth diaper bag will be going everywhere with you. It is an essential item to allow you to keep your cloth diaper system items together along with all of the other paraphernalia kids require.
When choosing a diaper bag, there is an array of factors to consider. You want a bag big enough that everything you need can be stored within.
You want it to have a good layout so you can access your items without having to empty the bag. Plus, you need to ensure that it has a waterproof lining in case of any food or drink leakages or wet or soiled clothes.
Not only does it need to be practical, but you want one that you can attach to your stroller and one that can easily be carried. Plus, you want it to look good.
A popular diaper bag is the Grovia Hie due to its extendable nature and multi-carry options.
8. Cloth Diaper Safe Laundry Treatment
Once you decide to use cloth diapers on your little one, you will find yourself completing laundry a little more often.
It is a big part of how to look after and ensure you get the best benefits out of your cloth diaper stash. Whether you have a minimalist cloth diaper stash or not. You will find yourself needing to wash all of the diapers and wipes at least twice per week.
It is vital that before you go ahead and start washing your little one's diaper stash that you have the right products in and to hand.
This ensures the diapers get the clean they need and all the wee and poo is properly washed away. Whilst still guaranteeing a soft diaper that offers maximum absorbency.
Non-bio detergents are one option, although diaper companies have their own laundry treatments available.
9. A Diaper Sprayer
You may assume a diaper sprayer is an essential diaper stash item, but it is. Especially once your little has moved on to solid foods, and you need to get the excess poop off before washing.
Offering a much more eco-friendly way to deal with the pooey mess of a weaning babe. You use it to spray the poop off before washing. Saving you time and being tempted to use disposable liners (if you don't want to use them).
When choosing your sprayer you will want to look for ones that are easy to install. With a baby in tow, you want it to be quick and easy to fit.
Having a sprayer with adjustable pressure settings is a must. Being able to adapt the pressure will make it so much handier for other cleanings such as washing off food, mess, and dirt as your child gets older and starts eating and exploring.
10. A Spray Bottle
When getting into being an eco-friendly parent and using cloth diapers and wipes. There you pick up tricks and tips and can make your diaper changing process even more eco-friendly.
Simply by purchasing a basic water spray bottle, you can save yourself even more money and protect the environment further.
They are the perfect and essential partner when using cloth wipes. Not only can you decanter and take your cleaning solution, but you can make your own wipe solution.
DIY cloth wipe solutions are the best option for your baby. You have complete control over what ingredients are used and the concentration levels. Guaranteeing your baby will always have a solution being used that is gentle to their skin and won't cause irritation.
When choosing your spray bottle, make sure you opt for one with a mist setting. That way if you spray directly onto your baby's bottom, it can be gentle and won't startle your little one.
FAQ
How do you make a cloth diaper stash?
To make a cloth diaper stash you need cloth diapers, a wet bag, a diaper pail, and laundry treatments. It is beneficial to build your stash gradually based on what works for you.
What are essential items for a cloth diaper stash?
Essential items include laundry treatments, cloth diapers, wet bags, diaper bags, and cloth diaper-friendly diaper cream. You can opt for cloth diaper packages to provide the basics for any stash.
How many cloth diapers do you need in your stash?
If you plan to do a laundry load every 2 days you want a minimum cloth diaper stash size of 16. If you want to wash less you will need more.