Pocket Diaper Stuffing: The Beginners Guide (2023)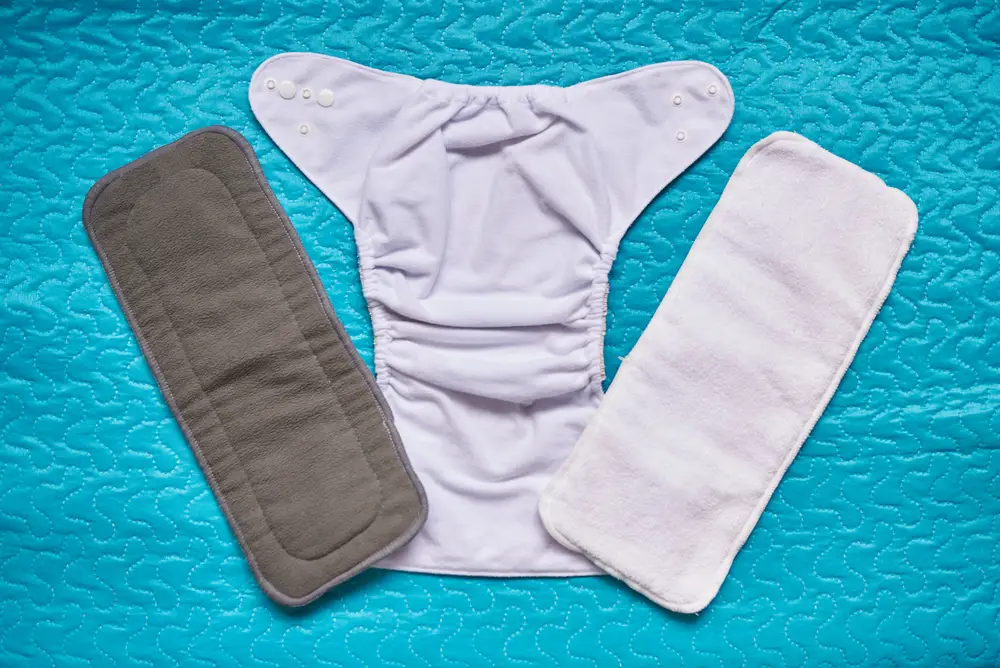 Diaper stuffing is when you add material inserts into a pocket diaper to increase its absorbency.
The main challenge with diaper stuffing is deciding what material to use based on your baby's needs as they absorb different amounts.
Overstuffing can cause leaking, and some fabrics can repel liquid over time.
Pocket Diaper Stuffing
Pocket diapers are not absorbent enough on their own, and that is why you need inserts for pocket diapers.
Stuffing the pocket diaper with the correct cloth diaper filling will increase diaper absorbency and be more comfortable for your baby.
Inserts of microfiber, cotton, bamboo, hemp or a combination are the most popular. Inserts are the main absorbent layer used, and you usually need one.
Doublers are often hourglass in shape and offer an extra layer of absorption. Boosters are slim pads of absorbent material.
These inserts are easy to replace when wet and allow you to customize the diaper for your baby's needs.
How To Stuff a Pocket Diaper?
Pocket diaper filling is very straightforward.
Choose your pocket diaper. Some open at the front, back, middle, or front and back. Some cloth diaper pockets are one-size with adjustable snaps, while others are set sizes.
Choose your inserts. Pocket diaper inserts are made from different materials with varying levels of absorbency. Choose the material that best suits your baby's needs. You will use different types of cloth diaper inserts as your child develops.
Open your diaper, so the pocket is facing up.
Adjust the insert to match the size of the pocket. Use smaller inserts for smaller babies and larger inserts for larger babies.
Start stuffing. Open the pocket and stuff in the insert. When using cloth diapers with snap inserts, be sure to place the snaps facing down, or they will hurt your baby's skin. It is important to identify the wetness zone and put the folded or snapped side in that zone. For boys, that is near the front, and for girls, near the back. One insert should suffice, but you can add a second or a doubler for increased absorption.
Pro Tips
Be sure to place microfiber inserts into the pocket as they can irritate the skin. Try sizing up rather than overstuffing.
Place the fastest absorbing one on top near the skin when layering materials. Check how many layers the insert has, as that will affect diaper insert absorbency.
Best Inserts for Pocket Diapers
When looking for the best inserts for pocket diapers, you should look for a material with fast absorbency and a large storage capacity.
The inserts should also be the length of the pocket diaper. For example, if you want the most absorbent inserts, they need to fit snuggling in the cloth diaper pocket.
Here are three great options.
Charlie Banana Hemp and Cotton Inserts
These inserts are soft and super absorbent.
They offer great value for money and come with a cloth diaper pocket and two inserts.
The inserts are made up of multi-layers of premium hemp, organic cotton, and terry and are designed to protect against leaks.
The side snaps make them easy to use, and the wide back elastic offers comfort and a slim fit. Leak-proof leg casings provide extra protection from blowouts.
Not only will the insert remain snug and in place, but the hybrid front lap opening allows easy access for insert adjustment.
Charlie Banana inserts are also climate-neutral certified and gentle on your baby's skin.
Charlie Banana Disposable Inserts
These disposable inserts come with the same Charlie Banana climate-neutral certificate.
Designed to be gentle on the earth and your baby, they are soft and easy to use. Place them over the lining of the pocket diaper and remove and throw them away when soiled.
They offer good value for money with 32 inserts in a pack.
Formulated for sensitive skin, they contain no dyes or perfumes. The disposable inserts are made from 73% wood pulp and 27% SAP, a super absorbent polymer.
These inserts are perfect for on-the-go outings or traveling.
You can also add them to other inserts to increase absorption for nights or long car journeys.
OsoCozy Charcoal Bamboo/Microfiber Inserts
With 12 in a pack, these charcoal bamboo/microfiber cloth diaper pads offer great value for money while still providing an effective absorption solution for your pocket diaper.
These inserts consist of 5 layers, offering maximum absorption and comfort for your baby.
The outer layers are charcoal bamboo fleece, which is absorbent and soft. The three inner layers are 100% polyester microfiber and are put in the middle to prevent any irritation and rashes.
Coming in 2 sizes, these inserts are versatile for different pocket sizes and body types, allowing you to customize the fit and absorbency.
These inserts are perfect for heavy wetters and night times.
Diaper Insert Absorbency Chart
Choosing the best fabric depends on your needs. Cotton, hemp, bamboo, and microfiber are the most common and most popular.
Hemp absorbs slowly but is very absorbent. It is also less likely to leak when compressed.
Bamboo absorbs faster but tends to leak when compressed. It is extremely soft though.
Microfiber absorbs quickly but can leak when compressed and it is not as durable as natural fibers.
Minky and disposable materials are also good options as they are absorbent, soft, and the disposable inserts offer an easier diaper change.
| | | |
| --- | --- | --- |
| Insert Fabric | Absorption Speed | Absorption Amount (per oz) |
| Hemp | slow | 8.8oz |
| Bamboo | medium | 8oz |
| Cotton | fast | 8oz |
| Zorb | very fast | 7oz |
| Microfiber | very fast | 8oz |
| Microfiber/Bamboo blend | medium | 8oz |
| Bamboo/charcoal blend | fast | 9oz |
| Minky | medium | 7oz |
| Fleece | fast | 7oz |
| Disposable Inserts | fast | 7oz |
Avoid Overstuffing
Overstuffing pocket diapers happens when you add too many inserts into a pocket diaper cover. This affects the diaper's fit as the added bulk can cause leg and waist gaps. These gaps result in leaks.
If you struggle to get the diaper inside the leg crease, you might have overstuffed it. When adding extra inserts, always check the fit. You should not be able to fit more than one finger between the diaper and the thigh.
If your baby is soaking through their inserts and diapers, try sizing up rather than adding extra inserts. This allows for a larger insert and a snug fit.
One insert should be enough, but you should not add more than two.
Home DIY Diaper Inserts
If you have run out of clean inserts or would rather not buy new ones, then there are ways to make your own DIY pocket diaper inserts at home.
Prefolds in pocket diapers are a great idea because prefolds become more absorbent with washing. Using prefolds in pocket diapers is a good way to deal with heavy wetters. Using prefolds as inserts can be bulkier.
Using flats as inserts is a good option as they are made from natural fibers. Flats in pocket diapers are less bulky.
Flour Sack Towels aren't as absorbent but will do in an emergency.
Washcloths make a soft and absorbent insert.
Old Shirts can be cut into a square and used as DIY diaper inserts.
FAQ
Do you have to stuff diapers?
Diaper layers are important to increase absorbency and comfort in a cloth pocket diaper. Inserts are needed when using pocket diapers as covers.
How to stuff cloth diapers?
Cloth pocket diapers are stuffed with various materials and secured with snaps for a snug fit. They are customized to suit the needs of your baby.
How to use cloth diapers with inserts?
Choose the material that suits your needs based on absorbency needs. Then stuff your diaper with the inserts and monitor to make adjustments.
How to use pocket cloth diapers?
Stuff the diaper with inserts and secure snuggly to your child. When it is time to change, shake any solids into the toilet, remove the insert, and wash.
How many cloth diaper inserts do I need?
You would need 24-36 inserts for newborns and 14-24 inserts for toddlers. This amount will also vary as your child develops and their needs change.
What are cloth diapers stuffed with?
Most commonly, you can stuff cloth diapers with material inserts made from cotton, microfiber, bamboo, and hemp. Minky, zorb, fleece, and a bamboo/charcoal blend are other insert options.
Which cloth diaper inserts are the best?
The best cloth diaper insert is the one that absorbs the fastest and is the most absorbent. Hemp holds the most liquid, but microfiber absorbs the fastest.
Can I use prefolds as inserts?
Yes, prefolds work well as inserts as they become more absorbent over time and offer a soft and comfortable option. However, you can fold them to suit your needs.
Can I use flats as inserts?
Yes, flats make suitable inserts as they are not bulky. They are easy to clean and can be folded in various ways to cover the wet zone.
How to make a diaper insert at home?
There is no need to buy new inserts. Instead, you can use old t-shirts, washcloths, flour sack towels, flats, and prefolds as inserts.
Can I reuse cloth diaper inserts?
Yes, diaper inserts are reusable once they have been washed and dried. They are designed to offer an alternative to disposable diapers.
How many inserts do you need for cloth diapers?
You should put one insert in your cloth diaper and can add a second for extra protection and absorption. In addition, you should have 14-24 inserts available for your cloth diapers.
How can I make my cloth diapers more absorbent?
Use a material that is absorbent and absorbs quickly. Place the insert in the wet zone and make sure the diaper fits snuggly with no leg or waist gaps.
Which is better hemp or bamboo inserts?
Hemp makes a better. Hemp is slow to absorb liquids, but it holds more and is less likely to leak when compressed, unlike bamboo.
Which is better hemp or microfiber inserts?
Hemp is better than microfiber because it is natural, less like to leak when compressed, and holds liquid well. It is slower to absorb than microfiber but is more durable.
Should I rise first or stuff first cloth diapers?
When using a one-size cloth diaper, you want to set the rise first before stuffing. This ensures a snug fit that will be comfortable and prevent leaking.