5 Homemade Baby Wipe Solution Recipes (2023)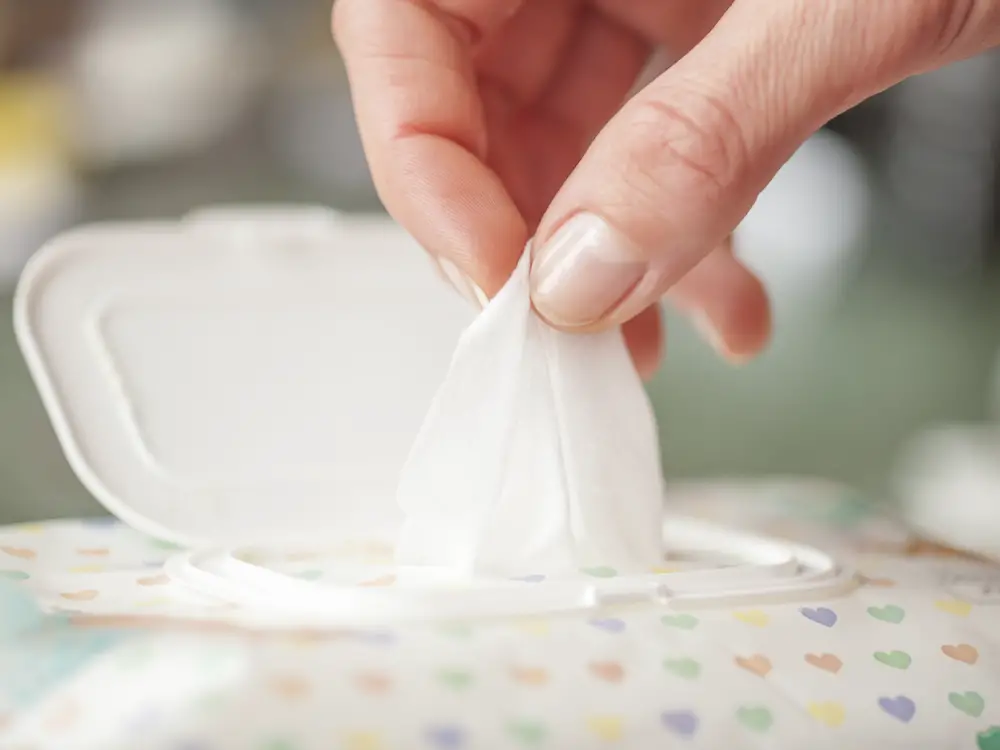 Parents considering cloth diapers are likely looking into other natural and eco-friendly alternatives to use with their babies.
A homemade baby wipe solution is an excellent alternative to using dozens of disposable wipes every week, and it is simple to make and use!
There are plenty of options available so read on to discover how to make and use homemade baby wipes!
Homemade Baby Wipe Solution Recipes
DIY baby wipe solution is easy to make and usually very cost-effective; however, you may need to do some experimentation before discovering what works best for you and your baby.
Below we have included five cloth diaper-safe wipe solution recipes. We have included the ins and outs of using coconut oil, tea tree oil, and other essential oils to help you make your own baby wipe solution.
1. Coconut Oil Baby Wipes
Coconut oil is a wonder product, so it probably comes as no surprise that it is one of the top choices for making a DIY wipes solution. To make baby wipes with coconut oil, all you need is 2 cups of warm water and two tablespoons of coconut oil.
This wipe solution works best as a spray, particularly if you use liquid coconut oil. Liquid coconut oil will also prevent clumps and clogs from forming, but if that's all you have, you can still use it.
As a spray solution, it also works great on the go. All you have to do is purchase a small travel-size spray bottle from the store and pour a small amount of it into the bottle.
Coconut oil is moisturizing and smells great. Unfortunately, it can leave oils stains on your diapers, however, pretreating your diapers and inserts with some cloth diaper detergent before washing should help.
2. Baby Soap Solution
Perhaps the simplest way to make your own baby wipes solution is to use water and baby soap.
Baby soap is already gentle and less likely to irritate your baby's skin than many products on the market, and since you'll need some soap for bathtime, you'll always have it in the house!
The basic baby wipe solution is 2 cups of warm water and two tablespoons of baby soap; you can adjust as needed depending on the soap used and your baby's bottom.
When using a soap-based wipe solution, your baby's bottom may become dry. If this is the case, consider alternating between two different types of cloth wipe solution or using a cloth diaper safe diaper cream.
3. Castile Soap Solution
Castile soap is a vegetable oil-based soap, usually olive oil, that many cloth diapering parents use to make a cloth diaper wipes solution.
You can use castile soap, in its liquid form, to make a homemade wipes solution using two cups of water and two tablespoons of soap.
Castile soap works best when warm so consider using a bottle warmer or wipes warmer to keep the solution at the optimal temp.
It also tends to leave a film on your baby's bottom, so you may need to follow up with a water rinse if you choose this diaper wipes solution.
4. Essential Oil Baby Wipes
There is some debate over whether or not essential oil baby wipes are safe to use on your baby's bottom. However, it should be noted that the medical community does not endorse the use of essential oils on any infants younger than three months, and when used, they should always be diluted.
According to Healthline, lavender, dill, lemon, and chamomile are safe for younger infants. You can use tea tree oil on babies over six months and eucalyptus on babies two years and older.
Lavender essential oil is an excellent choice for sensitive skin; it can calm irritation and has a soothing scent. In addition, tea tree oil baby wipes work well on babies older than six months to clear up diaper rash.
To make a cloth wipes solution using essential oils, you will also need a carrier oil. For example, you can use olive oil, grapeseed oil, liquid coconut oil, or avocado oil.
Essential oil solutions work best as cloth wipe spray, so fill a medium squirt bottle (4-8 ounces) with the carrier oil and add a few drops of the essential oil. Play around with the recipe to see what works best for you and your baby.
5. All-In-One Baby Wipe Solution
If you're looking for the best of all worlds in your baby wipe spray, this recipe has a little bit of everything!
You will need:
½ Cup filtered water
1 Tablespoon carrier oil like almond, grapeseed, or avocado oil
1 Tablespoon liquid coconut oil
3 drops lavender essential oil
3 drops chamomile essential oil
1 Tablespoon aloe vera oil
4 drops tea tree oil (if your baby is over six months old)
Combine all of the ingredients in a squirt bottle and shake vigorously. If you want to prep some baby wipe solution concentrate, you can use small bottles to premix the appropriate amounts of essential oils.
Then, when needed, you can add a few drops from the concentrate to the carrier oil mix.
Common Wipe Solution Ingredients
Any basic web search for baby wipes solution recipes will turn up some shared or common ingredients.
In many cases, you can mix and match these ingredients to find the solution that works best on your baby's bottom.
The following sections will cover the most commonly used ingredients used when making a baby wipes solution.
Water
Water is one of the most frequently used ingredients parents use when making a cloth wipe spray. Water is readily available, in most cases free, and gentle on your baby's bottom. It is best to use filtered water or boil it first if you are not using bottled or distilled water.
If your tap water is safe, there is no reason not to consider this free ingredient! If you don't use water in your spray, you may wish to have a water spray bottle on the changing table to help clean up messy bottoms or to wipe away and film a soap solution may leave behind.
Castile Soap
Castile soap is another ingredient you will hear mentioned frequently on cloth diapering forums. Castile soap is somewhat of a do-it-all wonder soap that you can use for dishes, skincare, baby baths, and reusable baby wipes solution.
Castile soap is a concentrated liquid soap and, when diluted with water, makes a simple and easy-to-execute baby wipes recipe.
Castile soap also comes in bar form, and you could, in theory, shave it into warm water and mix, but purchasing a liquid form will make things much simpler for you. And because parents can use it for a variety of household tasks purchasing it in large quantities is cost-effective.
Oil
When reusable wipe solution recipes mention oil, they aren't referring to essential oils; those are an entirely different ingredient category. Instead, when a recipe mentions oil, it refers to carrier oil.
A carrier or base oil is used to diffuse the strength of essential oils, many of which are too strong if applied directly to your baby's skin. In addition, essential oils begin to dissipate as soon as they're applied to the skin.
Common carrier oils are olive, avocado, almond, coconut, and grapeseed oil. Carrier oils can be used alone in conjunction with warm water to create a reusable baby wipes solution. Carrier oils are gentle on the skin and usually don't irritate.
Essential Oils
There are only a handful of essential oils safe to use with babies, so you must exercise caution when creating homemade cloth wipe solution recipes.
Both lavender and chamomile essential oils are considered safe for use with infants three months and older. Only buy them from a reputable source and look for therapeutic grade oils when purchasing essential oils.
WebMD states Idaho tansy, hyssop, sage, cleary sage, wintergreen, peppermint, and eucalyptus should never be used with infants. It is also vital that essential oils never be applied directly to your baby's skin and that they are always diluted.
Wipe Solution Ingredients to Avoid
A few ingredients should never be used when creating homemade diaper wipe solutions. For example, any type of alcohol will not only dry out your wipes but could irritate your baby's bottom.
Likewise, vinegar, which can be extremely useful when stripping and cleaning cloth diapers, will irritate your baby's delicate skin and potentially cause chemical burns.
In addition, most essential oils should be avoided when making homemade diaper wipe solutions.
Once your baby is three months old, a few essential oils are considered safe, but even then, they should be used with caution and only when you know the oils are from a reliable source. Instead, consider purchasing organic, therapeutic-grade oils.
How to Use Cloth Wipe Solution?
There are a couple of different ways to use homemade cloth diaper solutions. You may find one method works for home while another is easier for travel on in your diaper bag. The two main methods of using homemade solutions are the spray and container approaches.
Container Approach
The container approach is similar to the plastic bins you find in stores for disposable wipes. You can use any sealable plastic container, but you can also purchase specially made reusable wipe pouches or containers. Being able to seal the lid prevents the wipes from drying out. You can use paper towels or disposable diaper liners as wipes.
Place the wipes into the container and pour the diaper wipe solution over the top. You will need to add enough solution to saturate the wipes and keep them moist.
Spray Approach
Many parents who make homemade diaper solutions prefer to use it as a spray. However, carrier oils, especially coconut oil, can clog spray nozzles when using a bum spray recipe, so a squirt bottle is often more efficient.
Peri bottles, like the one you use after giving birth, are a popular choice for cloth diapering parents; they are compact, easy to use, and easy to clean when needed.
To use the spray approach, you can either spray your baby's bottom, or the more common way is to spray the wipe or washcloth before wiping your baby's bottom.
Storing Wipe Solution
It is vital to keep the container where you store your wipes and solution clean is vital. Keeping the container clean will prevent mold and mildew from forming. In between batches, you should clean the container with mild soap.
If you are prewetting your wipes, they will only last a few days, so as tempting as it might be to prepare a large batch ahead of time, you may end up tossing them out if they become moldy.
Homemade Wipe Solution vs. Commercial Wipes
Homemade diaper wipe solutions tend to be more cost-effective than commercial wipes, and in general, they are gentler on your baby's bottom.
Many parents even claim that homemade wipes are more effective than store-bought ones. Using a homemade solution in conjunction with cloth wipes will also be thicker, making it easier to clean up big messes.
Depending on what you already have at home, your start-up costs for cloth wipes and a homemade solution could be $0. Upcycled fabric like old flannel shirts or blankets, cotton t-shirts, or extra diaper inserts can all be used as wipes.
In addition, if you have a carrier oil, baby soap, and essential oils at home, you can make a cloth wipe solution safe for cloth diapers without a single trip to the store!
FAQ
How to make baby wipes solution?
There are different ways to make baby wipes solution, but all you need is water, baby soap or carrier oils, and essential oils in their simplest form.
How to use tea tree oil for cloth wipes solution?
Tea tree oil is only safe to use on babies six months and older. Tea tree oil needs to be diluted into a carrier oil before use and should not be directly applied to their skin.
How to use coconut oil for cloth wipes solution?
Coconut oil can be melted in warm water. You can purchase liquid coconut oil. 2 tablespoons of coconut oil mixed into warm water make an excellent cloth wipe solution for sensitive skin.
How to use essential oil for cloth wipes solution?
Essential oils should be diluted in a carrier oil and then added to water to make a cloth wipes solution.
What is the best cloth wipe solution?
There is no best cloth wipe solution; instead, it will depend on your baby's skin and your preferences.
Can you make your own cleaning wipes?
You can use paper towels or disposable diaper wipes with your homemade solution; you can also use cloth diaper inserts, old flannel blankets, or cotton t-shirts.
Can you add water to baby wipes?
Yes, many DIY cloth diaper solutions use water as the base ingredient before adding soap or oils. However, it is best to use filtered or distilled water.
How long does a homemade wipe solution last?
When stored properly, a homemade solution can last a few weeks. However, if you are pre-soaking your wipes, they should be changed every few days.
What essential oils should I use for cloth wipes solution?
Lavender, chamomile, lemon, and dill are all considered safe for babies once three months old. After six months, you can also use tea tree oil.
Is it cheaper to make your own baby wipes?
In most instances, it is cheaper to make your own wipes. However, depending on what you have in your home, it may cost nothing to begin.
What type of fabric should I use for the cloth wipes?
Flannel and cotton work best for washable cloth wipes. However, you can use microfleece, fleece, thick paper towels, or disposable diaper liners.
What is castile soap?
Castile soap is a vegetable-based soap that can be used for many uses around the home, including cloth diaper wipes, baby baths, skincare, and washing dishes.