Minky Fabric: Properties, Pricing & Sustainability (2023)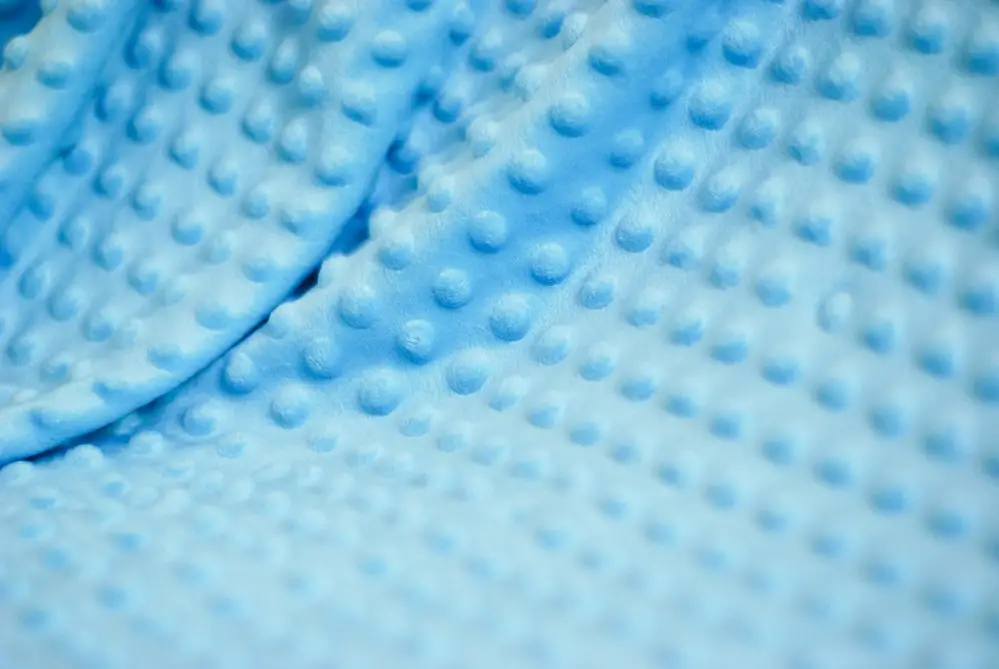 Minky fabric is a brand of polyester fabric that is exceptionally soft and frequently used to make baby diapers, blankets, and sleep sacks. It is softer and thicker than its cousin, fleece. Its typical bumpy dots or welts characterize Minky. It is a warm and cozy fabric which is why people love using it for babies!
Fabric Profile
Fabric Name: Minky
Synonyms: Dimple Dot, Cuddle Fabric, Ribbon Minky, Print Minky
Fiber Type: Polyester
Breathability: Somewhat breathable
Absorbency: Fairly absorbent
Characteristics: Soft, breathable, absorbent stain-repelling, non-bulky, warm
Washing Requirements: Wash in cold water, remove from dryer before 100% dry
Common Uses: Blankets, diapers, sleep sacks, baby toys, bibs, pajamas, robes, blankets
Heat Press Temperature: Do not iron Minky
What is Minky Fabric?
Minky material is a 100% polyester, manufactured fabric. It is an absorbent and soft material similar to fleece or microfiber, commonly used for baby products and cloth diapers. There are several different Minky fabrics, but common characteristics of Minky are the dots or dimples and its incredibly soft texture.
Another Minky quality is that it is hypoallergenic. Minky is also durable and is available in several different weights, thicknesses, piles, and colors, making it a versatile fabric for various projects.
There are several types of Minky, but all of them have similar qualities and characteristics. Minky is easy to wash and dry but should be removed from the dryer before 100% dry. You should also never iron Minky as polyester fabrics can melt when heat is applied.
Minky is often compared to fleece, wool, and sherpa because of its properties and texture.
Minky vs. Fleece vs. Sherpa
Fleece, sherpa, and Minky textiles are all made from polyester. Both fleece and sherpa are made to simulate natural fibers from sheep. Fleece gets its name from a sheep's fur, while sherpa is named for the Sherpa people from Nepal.
All three fabrics are warm, soft, and absorbent, which is why they are popular choices for baby diapers and blankets. Minky and sherpa are more lightweight than fleece, but all three are good at wicking moisture away.
One main difference between Minky vs. fleece and Minky vs. sherpa is that sherpa and Minky have one soft and fluffy side like wool, and the other is smooth. With fleece, both sides of the fabric feel the same. That means you can sew fleece on either side, but Minky and sherpa need to be sewn with a specific side out.
Minky is much harder to sew than fleece or sherpa because of its silky and slippery texture.
Types of Minky Fabric
There are several types of Minky fabric: Plane Minky, Minky Dimple Dot, Ribbon Minky, Smooth Minky, Sherpa Minky, Minky Stripe, Minky Rose Swirl, and Minky Super Plus. Each of these types of Minky has its unique characteristics, and these different Minky fabric properties are what sets each one apart.
Plane Minky
Yes, you read that correctly plane, not plain. Minky Plane fabric is a Minky fabric with pictures of planes on one side and soft Minky dots on the underside. The side of the fabric with planes is smooth, Minky fabric, and the underside is usually solid in color.
Minky Dimple Dot
Minky DImple Dot fabric is the most common style of Minky fabric. It is characterized by the welts or raised dots on one side of the fabric. It is often used to back blankets, robes, apparel, quilts, and to make baby toys. Minky Dimple Dot comes in a variety of colors and is also known as Cuddle Fabric.
Ribbon Minky
Minky ribbon fabric is a style of ribbon with a Minky texture to it. Minky ribbon comes in the same range of Minky colors and patterns as the fabric. People often use Minky Ribbon to add fringe and tassels to baby blankets or baby toys.
Print Minky
Print Minky is similar to Plane Minky; it has patterns, shapes, animals, etc. This fabric style has a Smooth Minky texture and is used to make baby blankets and Minky clothing. Print Minky is sold as both two-way stretch and four-way stretch fabric.
Smooth Minky
Smooth Minky is a Minky fabric that is without the characteristic Minky dots. Smooth Minky is used to make the outside of blankets, robes, baby toys, sleep sacks, and cloth diapers. Smooth Minky's qualities make it an excellent choice for cloth diaper covers because it is soft, absorbent, and lightweight.
Sherpa Minky
Sherpa Minky is a Minky plush fabric that mimics traditional sherpa but is much softer. Sherpa Minky is most commonly used for clothing and outerwear, bedding, costumes, and bags. Because Sherpa Minky fabric wicks moisture away, it is an excellent material to use with coats, bags, and other items exposed to the elements.
Minky Stripe
Minky Stripe fabric is a unique type of Minky fabric that has the same Minky properties as other types, but instead of dots, it has thick, indented stripes going along the length of the fabric. Minky stripe fabric is ideal for making blankets because of its thick, plush feel.
Minky Rose Swirl
Minky Rose Swirl is an incredibly unique style of Minky fabric. Minky Rose Swirl is a high-quality Minky fabric that is adorned with a pattern of rosettes or swirls. It comes in a variety of colors and is ideal for baby blankets and sleep sacks.
Minky Super Plush
Minky Super Plus is the most expensive type of Minky fabric by the yard. Minky Super Plush is commonly used to make pajama pants, bathrobes, and bedding. Minky Super Plus is available in both solid colors and a variety of patterns.
Minky Fabric Characteristics
Minky fabric is durable, incredibly soft, and warm yet also lightweight. Minky is breathable but not as breathable as many natural fabrics, so keep that in consideration when deciding on what projects to use Minky.
100% Minky is made from polyester, but unlike traditional polyester, known for being rough or coarse, Minky is soft and smooth. Avoid buying cheap Minky fabric, which may not be made at the same level of quality, and instead, look for sales or use coupons.
Because Minky is a durable fabric and is very resistant to stains, it is a popular choice for baby blankets and diaper covers. People also enjoy Minky's warmth and softness for pajama bottoms and bathrobes.
Minky works well to wick moisture away, is very stretchy, and is not prone to shrinking when washed.
Downsides of Minky Fabric
Minky fabric has many wonderful qualities that make it such a well-loved fabric, but there are a few downsides to consider.
The first is that Minky is polyester and therefore manufactured. Unfortunately, polyester fabric leaves a relatively large carbon and environmental footprint. So for individuals looking for eco-friendly choices, Minky is not one of them.
Secondly is Minky pricing. This luxuriously soft fabric is ideal for babies and blankets, but it sometimes comes with a hefty price tag. If you are considering mass-producing something, such as homemade cloth diapers, it might be more cost-effective to go with fleece.
The third downside to Minky is that it is prone to static if left in the dryer too long. Therefore, it is recommended you remove Minky products when they are about 90% dry and allow them to air dry the rest of the way.
Finally, Minky can be difficult to work with because it is so slippery and silky. It requires some special sewing tools, and you must be careful not to stretch it while sewing.
Common Uses of Minky Fabric
Minky is used widely in the world of pajamas and robes. The soft, smooth fabric is comfortable and more lightweight than fleece for breathing. People also often use Minky to make blankets and throws for their couches.
Minky is also commonly used to make baby products such as sleep sacks, blankets, toys, bibs, and cloth diaper covers. In addition, different types of Minky can be used to make the topside and backing of blankets and quilts.
Minky's super soft feel makes it an ideal fabric to make stuffed animals and soft blocks or cube toys from.
Because Minky is so warm is a popular winter textile for making baby clothing and coats, car seat covers, and the lining of jackets. Another widespread use for Minky is purses and bags.
Minky Fabric in Cloth Diapers
Minky baby fabric makes a soft and cuddly diaper cover, but it is also excellent for diaper inserts.
Minky is considered comparable in absorbency to microfiber inserts but is less bulky and does not feel as rough as microfiber. Minky is also better at repelling stains than microfiber, which means less diaper build-up and fewer smells.
Minky is an easy fabric to wash, so it works well as a cloth diaper fabric. In addition, Minky durability can stand the test of repeated washes and dries; as a bonus, Minky diaper inserts can be used as dusting cloths or burp rags if needed.
Many brands of cloth diapers use Minky, including Fuzzibuns, Mama Koala, and Blueberry. You can also find Minky diaper products on Etsy.
Minky has worked so well in the world of cloth diapering there are now washable menstrual pads made from the fabric.
Minky Fabric Pricing
Minky prices vary depending on the type, weight, and quality of the fabric. Solid colored, smooth Minky tends to be the least expensive version of the fabric available. It usually costs around $10-$12 per yard.
On the other hand, Minky Super Plush or Luxe Cuddle costs as much as $22 per yard, with the average price being around $18.
Minky DImple Dot, Sherpa Minky, and Minky Rose Swirl all seem to have a Minky price in the middle of the market. These types of fabric cost, on average, $12-$15 per yard.
Plane Minky and Pattern Minky are variable depending on how trendy the pattern or design is at the time. Some patterns and prints sell for $15 to $20 per yard, but it is also possible to find others on sale as low as $7 per yard.
If the cost of Minky is a concern, look for sales on overstocked designs or colors, discontinued patterns, or use store coupons. A less expensive alternative to Minky is fleece.
How is Minky Made?
Minky is a type of polyester which means it is composed of petroleum and other chemicals. These synthetic fibers are then spun and woven or knit in a matter similar to producing microfiber to make an extraordinarily soft and smooth fabric.
Minky fabric gets its name from the animal the mink, whose fur used to be prized for its luxurious softness. You can rest assured, however, that Minky does not contain any real animal fur.
Even though Minky is polyester, a typically inexpensive fabric, it is made from the highest quality polyester out there, which is why the cost is so much higher. Even though Minky costs more than other synthetic materials, it has some added perks that make it worth the price.
Minky is soft like silk, and it is absorbent, hypoallergenic, warm, and lightweight.
Where is Minky Manufactured?
Minky is made worldwide with major manufacturers in all parts of Asia, China specifically, the United Kingdom, and surprisingly the United States.
One of the top manufacturers and wholesalers in the United States is Baum Textile Mills in New Jersey. The United Kingdom has several leading manufacturers, including Vale Mill and Minky Homecare, which make Minky fabric and sell home goods made from the fabric.
China has dozens of Minky manufacturers, and India, Cambodia, and South Korea also boast a few, making Asia the central market for Minky manufacturing.
Much of the Minky produced in Asia is sold wholesale or used to make Minky products exported to western countries like the U.S., Canada, and Europe.
Because Minky is a favored fabric among crafters, many Minky products such as blankets, diaper covers, and baby toys are made in the U.S. even if the fabric itself is not. Etsy is an excellent place to look for handmade Minky products.
Minky Fabric Environmental Impact
Minky fabric, like all other types of polyester, has a negative impact on the environment. Polyester is made from petroleum and other chemicals, which create land, water, and air pollution, affecting both animals and people.
At every stage of the production and manufacturing process, polyester fabrics use harsh and harmful chemicals, which in some places contaminate the drinking water for animals and humans.
Additionally, polyester is not naturally biodegradable, which means it takes up space in landfills. While some plant-based polyesters are being made, they still go through a heavy chemical process during production. A natural, biodegradable alternative to Minky is silk.
Polyester production also has a significant social impact as many factories employ what is equivalent to slave labor and child labor. On the other hand, cotton made from FairTrade certified manufacturers is a more socially conscious choice to consider.
These Minky facts can be hard to hear for some people because the fabric is so well-loved, especially for making baby items.
Minky Fabric Certifications
Minky fabric is eligible for the same certifications as any other type of polyester.
Like other polyester types, Minky cannot receive an organic certification even if it is plant-based on the chemicals used in the manufacturing process.
Polyester manufacturers can earn the Standard 100 by OEKO-TEX. Standard 100 is a worldwide certification that requires a rigorous and independent certification process and must be renewed annually.
Another certification available for polyester is the Global Recycled Standard or GRS. Similar to Standard 100, the GRS is awarded through an independent, third-party process; however, the GRS is only for recycled materials.
The GRS certifies that manufacturers are using environmentally and socially responsible means to manufacture their products.
Because of the social and environmental impact polyester has, consumers may be more willing to use products that have received the GRS certification.
History of Minky Fabric
Minky fabric is very fashionable and sought after currently. As a result, nearly every major fabric retailer in the U.S. sells one type of Minky or another.
The "Minky Craze," as you might call it, began in the early 2000s when the brand Minky Mamas took off. Minky Mamas sells just about anything you can think of that is made from Minky, with their main item being blankets made from this luxuriously soft fabric.
However, Minky's true roots lie in polyester, which became popular in the 1950s due to its durability and wrinkle-resistant qualities. Unfortunately, for polyester, in the 1970s, it became known as a cheap and uncomfortable fabric, forcing polyester manufacturers to come up with something new.
As a result, there are several different types of polyester today, such as Minky, which is incredibly soft and silky to the touch. Minky is considered the gold standard of polyester.
Minky Fabric Alternatives
If you are looking for a more environmentally conscious alternative to Minky fabric, 100% silk is your best option. SIlk has been around since about 3000 B.C.E. and is made from the fibers produced by silkworms. Silk is durable, strong, and can be used to make a wide range of items.
If you prefer a vegan option, then linen is an excellent choice. Linen is another textile that has been around for thousands of years and was first used in Ancient Greece, Ancient Egypt, and Mesopotamia. Linen is made from the flax plant and is incredibly soft to the touch.
A third alternative is organic jersey-knit cotton. Jersey knit cotton is incredibly soft to the touch, and yard-for-yard is priced comparable to Minky. It is more breathable than Minky but not as warm.
Silk, linen, and cotton are prone to wrinkling and shrinking if not washed and dried correctly compared to Minky, which usually holds its shape well.
FAQ
What is Minky fabric?
Minky fabric is an extremely soft and silky type of polyester commonly used to make blankets, baby clothing and diapers, robes, and pajamas.
Why is Minky fabric so expensive?
Minky is expensive because the production process is more refined than other types of polyester. It is also trendy at the moment, which drives the cost up.
Is Minky fabric hard to sew?
Minky fabric is considered difficult to work with because it frays easily, can stretch while being worked on, and is very slippery and silky.
What is the difference between Minky and cuddle fabric?
Cuddle fabric is another name for Minky fabric. The two fabrics are essentially the same thing.
Is Minky fabric toxic?
Minky fabric is not toxic; it is, in fact, hypoallergenic. It is polyester, however, so the production of the fabric creates pollutants to the environment.
Can I wash Minky in the washing machine?
Yes, you can wash Minky in the washer in cold water. However, it is recommended you wash it with similar fabrics.
Can you put Minky fabric in the dryer?
You can put Minky in the dryer but you should remove it before it is fully dry. Minky is prone to static and fluffing.
Should I use batting with Minky?
It is ok to use batting with Minky, although some people choose not to. If you live in a colder climate you may wish to add batting for added warmth.

Does Minky fabric shrink when washed?
Minky fabric is not prone to shrinking, however if left in the dryer too long it can develop static or pilling and fuzzing.
How do I wash a Minky?
Wash minky with your normal detergent, cold water with similar items.
What is the difference between Minky and fleece?
Fleece is another type of polyester but it is not as soft as Minky and it is bulkier.