Sherpa Fabric: Properties, Pricing & Sustainability (2023)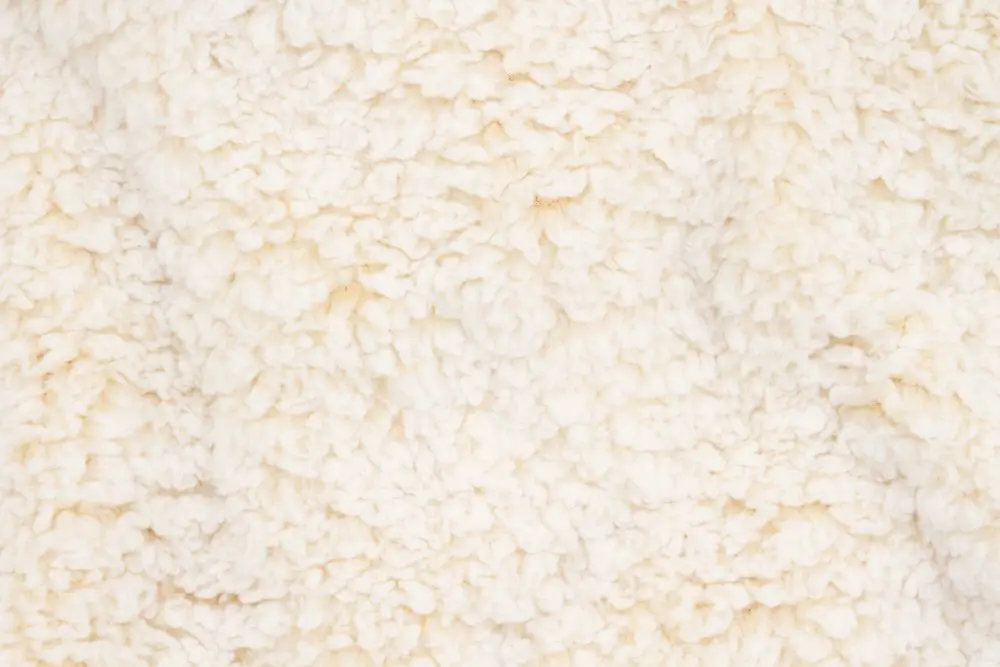 Sherpa fabric is a manufactured type of fabric often made from polyester. It is named after the Nepalese people known for wearing woolen clothing made from the sheep and llamas that live with them on the mountains in Tibet. It is a soft, warm fabric often used in outwear and boots.
Fabric Profile
Fabric Name: Sherpa
Synonyms: Shearling, Faux Shearling
Fiber Type: Polyester, sometimes blended with acrylic or cotton
Breathability: Breathable
Absorbency: Wicks away moisture quickly
Characteristics: Soft, dries quickly, breathable, warm.
Washing Requirements: Wash in cold water
Common Uses: Jackets, insulation, boots, upholstery, cushions, insulation
Heat Press Temperature: Do not iron
What is Sherpa Fabric?
Sherpa fabric is an offshoot of traditional fleece. Both fleece and sherpa were designed to mimic sheep's wool or fleece hence why sherpa is often known as faux shearling or faux sheepskin. Sherpa gets its name because it mimics the wooly clothing worn by the Sherpa people of Nepal.
Sherpa material is known for being soft and warm and is a popular fabric for outerwear and lining. Most sherpa fabrics are polyester, but some are made from acrylic, bamboo, and cotton.
Sherpa cloth has two sides. One side is the wooly, soft, texturized side that resembles wool or fleece, and the other is smooth knit.
Despite sherpa being a double-layered fabric, it is quite lightweight and breathable and works well for coats, blankets, and insulation. Because sherpa has become very stylish and is very popular for women's jackets and sweatshirts because of its soft luxurious feel.
Sherpa vs. Fleece vs. Shearling
Sherpa and fleece are both manufactured materials that no do use any actual animal products. So, therefore, if you hear someone refer to sherpa fur, they are actually talking about a synthetic product and not real fur.
Fleece is a polyester fabric that was designed to feel like wool. Sherpa is technically an off-shoot of fleece and not an entirely different fabric. Sherpa is more lightweight than traditional fleece, but it has the same moisture-wicking properties and warmth.
Shearling is the wool and skin of a recently sheared lamb, which has been through the tanning process. With shearling, the skin and the wool stay attached and are then made to use in clothing and other textiles.
Many people prefer sherpa because it does not come from nor kill a live animal to be produced. Faux sherpa is a misnomer because sherpa itself is animal-free; not all people are aware of the difference.
So if you see a company advertising faux sherpa fabrics, understand there is no difference between that and regular sherpa. The main difference is in sherpa vs. shearling.
Types of Sherpa Fabric
There are three types of Sherpa. Sherpa was initially produced from polyester as a variation of fleece. The majority of sherpa is still made from polyester fibers. However, it is also possible to find cotton sherpa, bamboo sherpa, and sherpa made from acrylic fibers. Like polyester, acrylic is a petroleum-based, synthetic fiber.
Cotton & Bamboo Sherpa
Cotton sherpa is sherpa fabric made from the cotton plant. Cotton sherpa can be 100% cotton, or it can be a blend of cotton and polyester. Sherpa can also be made using the fibers of bamboo. Sherpa made from cotton or bamboo can be labeled organic if the cotton used to make the fabric was certified organic.
Many people prefer cotton sherpa because it is plant-based and biodegradable. Organic sherpa has even less of a carbon footprint because organic cotton and bamboo use much less water to manufacture, resulting in less soil erosion. Organic cotton also has a positive social and economic benefit to many farmers, workers, and communities around the world.
Polyester Sherpa
Polyester sherpa is the original sherpa and the most widely manufactured. Some polyester sherpa may be blended with acrylic or cotton.
The difference between sherpa and traditional polyester fabric is that sherpa was designed to be luxuriously soft and supple. Sherpa fabric texture is so different from original polyester that many people don't realize that it's the same textile at its core.
Original polyester sherpa was designed to mimic the heavy wool and fleece people in the Tibetan mountains wear and was used to make jackets and blankets for mountain climbers and hikers. Nowadays, sherpa is used worldwide to insulate coats, vests, boots, and skiing jackets.
Acrylic Sherpa
Acrylic sherpa is the least common type of sherpa. It is usually a blend of acrylic, polyester, and spandex, making it very stretchy and pliable. In some instances, acrylic sherpa is a blend of synthetic fibers and cashmere wool.
Acrylic fabric, like polyester, is a petroleum-based textile and, therefore, synthetic. Acrylic fabric was first introduced in the 1940s by the company DuPont. Acrylic Fabrics are often used as a substitute for wool because it is soft and warm.
Acrylic fabric is often used to make sweaters, hats, socks, and knitting yarn. Because acrylic fabric already so closely resembled wool, it was an easy jump for manufacturers to create acrylic sherpa.
Sherpa Fabric Characteristics
The main characteristics of sherpa fabric are its softness, durability, lightweight feeling, and warmth.
Sherpa clothing is also good at wicking moisture away and drying quickly, which is why it works well as insulation, particularly for skiing and hiking where people are prone to sweat. It is not, however, waterproof, so it shouldn't be used as a raincoat.
Other beneficial sherpa fabric properties are that it is easy to clean, reasonably stain-resistant, breathable, and not bulky like fleece or natural wool. Most types of sherpa have some stretch to them, making them comfortable to wear. Sherpa textiles do not harm or use real animals, so many people see that as a plus.
Sherpa fabric is two-sided, one soft fleecy side, and the other a knit. It is good to keep this in mind when using sherpa for sewing projects because you will need sharp fabric scissors and a walking foot for your sewing machine.
Downsides of Sherpa Fabric
Sherpa is a fabric loved by many and wonderfully soft to wear, but there are a few sherpa fabric qualities that may give you pause before you decide to use it.
Even though sherpa is easy to wash, it tends to shed when doing so. One trick is to put your sherpa items in a mesh bag before washing. In addition to shedding during the wash cycle, it tends to pill.
Another negative sherpa fabric quality is that it attracts pet fur and lint, so always have a lint brush hand when wearing it! Synthetic sherpa, as opposed to cotton sherpa, also has a tendency to trap odors.
This can be a real downside if you use your sherpa jacket for hiking or outdoor yard work. To avoid smells from setting in, wash sherpa items as soon as you can after wearing them.
Sherpa can be difficult to work with when sewing at times. It is essential to pay attention to the nap of the fabric and be sure to finish off any raw edges to prevent shedding.
Common Uses of Sherpa Fabric
Sherpa textiles were initially invented for use in jackets and other clothing for mountain climbers. The lightweight, moisture-wicking, and warm fabric was ideal for those toughing it out in rugged, cold climates. Because the fabric worked so well, it became very popular among clothing manufacturers for use as insulation.
Sherpa is commonly used to make blankets, jackets, patio furniture covers, boots, hats, baby blankets, cloth diapers, and even baby toys!
Sometimes the sherpa is used at the outer texture, and other times it is reversed and used as the insulating layer. Because sherpa is lightweight and breathable, you can combine it with other fabrics to make blankets, jackets, and upholstery.
While sherpa can wick moisture away, it should not be used to make patio furniture covers that will remain outside in all weather. Sherpa is not waterproof and will therefore become ruined if saturated and left out. If your sherpa item is rained on, wash it as soon as possible to prevent odor.
Sherpa Fabric in Cloth Diapers
A lesser-known use of modern sherpa fabric is in cloth diapers. Some cloth diaper manufacturers use 100% cotton sherpa, while others blend polyester and cotton sherpa. Sherpa works exceptionally well as a diaper insert because it wicks moisture away quickly and has a quick dry time.
A significant benefit of sherpa made from 100% cotton is that it can be placed directly next to your baby's skin, unlike microfiber.
Sherpa is considered a stay-dry fabric which means it still feels dry to the touch even when wet. This makes it much more comfortable on your baby's bottom and reduces the risk of developing diaper rash.
Another reason sherpa works well for diapers is that it is easy to wash. While it is prone to pilling, air-drying your sherpa diapers and inserts in the sun should help prevent that.
Finally, sherpa is warm and insulating like wool, so for vegans or others not wishing to use animal products, sherpa is a great cloth diapering alternative.
Sherpa Fabric Pricing
After comparing prices with a majority of retailers, we can say that sherpa fabric by the yard usually costs anywhere from $9 to $14 on average. Sherpa fabric pricing depends on what the fabric is made from. Cotton sherpa is likely to cost more than 100% polyester sherpa.
The sherpa fabric color and pattern do not typically affect the price, but the softness of the weave will. Minky sherpa, Luxe sherpa, and heavy-duty sherpa are all at the higher end of the cost spectrum.
There are also some types of Luxe sherpa designed to feel more like llama fur than sheep's wool, and these typically cost $15 per yard or more.
The sherpa fabric weight also seems to play a minor role in pricing as heavy-duty sherpa, typically used for upholstery and jackets, trends more towards the $15-$20 range.
If the sherpa fabric price seems too low, double-check to ensure it is 100% sherpa, as some are blends. Sherpa made from 100% polyester tends to be cheaper than cotton sherpa which may also be the reason for a lower price tag.
How is Sherpa Fabric Made?
Sherpa fabric was originally made from polyester fibers. Polyester is a synthetic material that is made using fossil fuels. However, polyesters are now being produced from plant fibers that are more environmentally friendly than traditional polyester, and some sherpa manufacturers are beginning to use these textiles.
Sherpa can also be made by blending polyester with acrylic, another synthetic fiber, or cotton. There is also sherpa that is produced from cotton and organic cotton.
Since polyester and acrylic are both synthetic fibers, they produce more pollution and waste than natural fibers. The production of these types of fabric uses several toxic chemicals and requires a lot of water. These chemicals are released as greenhouse gases and can also pollute local waterways.
However, switching to cotton sherpa isn't necessarily the answer as many cotton farms worldwide use little more than slave labor and cotton itself uses over 700 gallons of water to manufacture one cotton t-shirt.
Where is Sherpa Manufactured?
Like many other fabrics and textiles, sherpa is predominantly made in Asia, specifically in China. An online search identified over 300 sherpa manufacturers and suppliers in China making and selling a vast range of sherpa products and textiles.
Mexico also has some major sherpa manufacturers who ship worldwide.
Suppose you are looking for a more eco-friendly and American-made fabric. In that case, you are in luck because the American company Wazoodle Fabrics manufactures and sells their ProEco line of bamboo sherpa directly from their website. The even better news is that the cost of this high-quality sherpa is not much more than traditional sherpa. Wazoodle's line of fabrics costs about $15-$20 per yard.
They also sell a ProEco line of organic 100% cotton sherpa that you can purchase from sellers off Etsy and other fabric retailers.
Another smaller, American company that manufactures its own line of soft and plush fabrics, including sherpa robes and blankets, is Berkshire Blankets. They continue to manufacture their textiles with the same mill they started with over two decades ago.
Sherpa Fabric Environmental Impact
Sherpa made from polyester, acrylic, or blends have a more substantial negative impact on the environment than 100% organic cotton sherpa or bamboo sherpa. Since sherpa is traditionally made from polyester, a synthetic, fossil-fuel-based fabric, the manufacturing process creates a lot of toxins and pollutants for air, water, and land.
Polyester or acrylic sherpa is not biodegradable, which means it stays on the earth for much longer than cotton or even blended sherpa. It is estimated that synthetic fibers like polyester and acrylic can take hundreds of years to begin breaking down. This slow process is part of what makes sherpa fabric durability so strong and why polyester is often used in blankets and upholstery.
When possible, look for sherpa made from 100% organic cotton or from plants such as bamboo, which is becoming a new trend. Both organic cotton and bamboo require less water and create less soil erosion.
Sherpa Fabric Certifications
Sherpa fabric quality is not necessarily taken into consideration in determining if the fabric receives certifications. Instead, it depends upon if it is made from synthetic polyester, blend, or an organic substance such as cotton or bamboo.
The most notable qualification sherpa could obtain is the Standard 100 by OEKO-TEX. Standard 100 is a worldwide certification that requires a rigorous and independent certification process and must be renewed annually. It is a very competitive qualification and must be renewed annually.
Sherpa that is made from recycled polyester can receive the Global Recycled Standard or GRS. It is also an independent, third-party process award; however, the GRS is only for recycled materials. In addition, the GRS certifies that manufacturers are using environmentally and socially responsible means to manufacture their products.
If the sherpa is made from organic materials, it is eligible to receive the GOTS or Global Organic Textile Standard. Like the GRS the GOTS ensures that the raw materials for the fabrics are harvested using socially and environmentally friendly means.
History of Sherpa Fabric
Sherpa fabric history may not go back as far as some people think. Even though sherpa is named for the people of Nepal who have been making clothing and textiles from llama and sheep's wool for centuries, synthetic sherpa fabric only came about in the 1970s.
A decorative fabric company by the name of Collins & Aikman, founded in 1891, developed the fabric in the 1970s to simulate wool. Collins & Aikman were primarily an auto parts manufacturer, but they had acquired other businesses over the years to expand their product base and in 1976 acquired Mastercraft Corporation. At the time, Mastercraft Corporation was the world's largest producer of woven Jacquard fabrics.
Once Collins & Aikman took over, they created the Collins & Aikman Fabric Group, and from that collaboration, sherpa was born.
However, it took sherpa nearly thirty years to trend as it didn't become popular until the 1990s when demi mogul Levi's started using sherpa to line some of their jackets. Since then, Sherpa became and stayed mainstream and is used in a wide variety of clothing and textiles such as jackets, sweaters, blankets, baby toys, cloth diapers, robes, hats, and as insulation for boots and blankets.
Sherpa Fabric Alternatives
Probably the most apparent sherpa alternative would be wool or shearling. Wool and shearling naturally do all of the things sherpa was designed to emulate and have a smaller environmental impact.
They are natural fibers which means less chemical waste and pollution are created. Their natural origins also make them biodegradable. However, for some people, using animal products, even one such as wool that does not harm the animal, is off-limits.
If you prefer to stay vegan, you could opt for fleece. Fleece is slightly thicker and heavier than sherpa but works just as well at wicking moisture away and staying dry. Fleece is also easier to work with, is less prone to pilling, and can be ironed.
Even though fleece is a thicker fabric, it's not as warm as sherpa, and the texture can be slightly rougher. However, one of the sherpa facts that create repeat customers is its silky, soft texture.
FAQ
Why is it called a sherpa?
It is called sherpa because it was designed to simulate the wool fabric worn by the sherpa people from Tibet.
What is real sherpa fabric?
There is no such thing as "real" sherpa fabric. So when people refer to sherpa, they are either referring to the Sherpa people or mean wool.
Is sherpa fabric expensive?
Sherpa fabric is a middle-priced fabric costing, on average, between $9-$15 per yard. Of course, there are some more expensive types.
Is sherpa fake fur?
Yes, sherpa is made to emulate wool, so it can be considered fake fur. As a result, it is sometimes called faux-sherpa, which is misleading because there is no "real" sherpa.
How do you wash a Sherpa fabric?
Sherpa should be washed in cold water. To prevent pilling or shedding, wash your sherpa items in a mesh bag.
Which is the warmer fabric, fleece or sherpa?
Sherpa is warmer than fleece; however, both fabrics do an excellent job at insulating and keeping you warm.
Can sherpa get wet?
Yes, sherpa can get wet, but it shouldn't be left out in the rain or used as a rain jacket as it is not waterproof.
What is the difference between sherpa and shearling?
Sherpa is a synthetic fiber that is manufactured to look and feel like shearling. Shearling is the fur off of a baby sheep.