Fleece Fabric: Properties, Pricing & Sustainability (2023)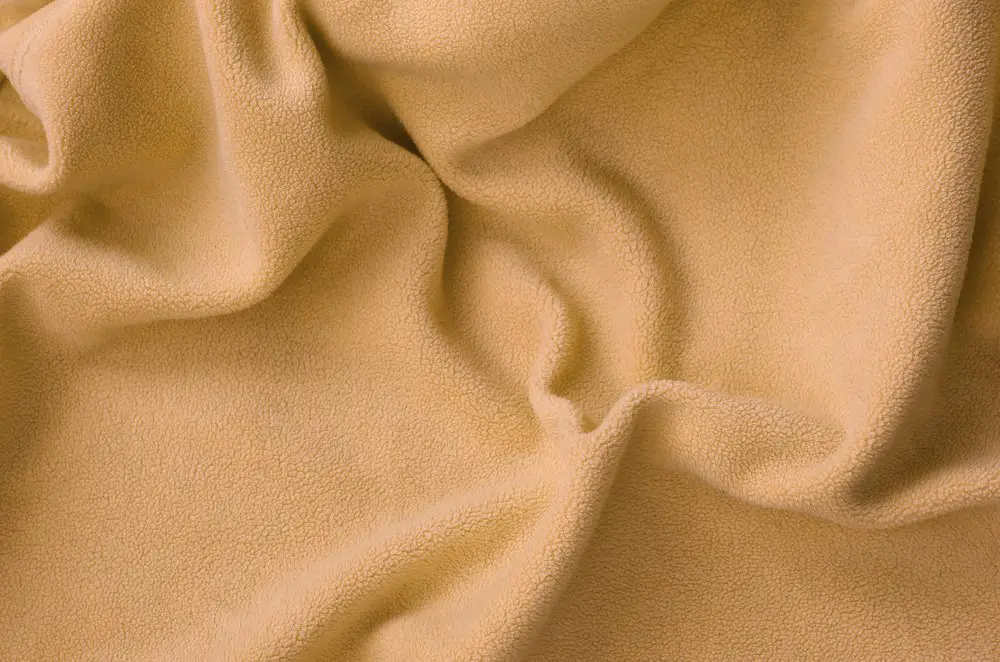 Fleece fabric is a synthetic material created to simulate the soft and warm feeling of fleece or wool from sheep. Believe it or not, this amazingly soft and fluffy fabric is derived from plastic, similar to other synthetics, and is usually made from polyester. Many consumers considered fleece a wonder product when it first hit the market.
Fabric Profile
Fabric Name: Fleece
Synonyms: Polyethylene Terephthalate, PET
Fiber Type: Synthetic fiber
Breathability: Very breathable)
Absorbency: Very water-resistant)
Characteristics: Wrinkle-resistant, lightweight, dries quickly)
Washing Requirements: Was on low temperatures, machine wash, no bleach, and air dry
Common Uses: Cloth diapers, jackets, gloves, hats, blankets, robes
Heat Press Temperature: Fleece should not be ironed
What is Fleece Fabric?
Fleece is a marvelously soft fabric created to imitate wool or fleece from sheep and has been around since the 1970s. As a result, fleece is sometimes considered faux-wool, similar to sherpa. In most cases, fleece material consists of polyester fibers that have been woven together and then brushed to create a soft, fleecy feel.
Despite fleece's soft and fluffy feel, it is essentially plastic and is manufactured through a series of chemical reactions using petroleum and fossil fuels.
The production of synthetic materials tends to be harmful to the environment. But there are now some fleece types made from recycled plastics, giving fleece an eco-friendly edge over many other synthetic materials.
Fleece is a lightweight, warm and durable fabric that has become popular among athletes and for outdoor wear such as jackets, hats, gloves, and boots lining. Fleece is commonly used in skiing jackets or other outerwear designed for cold outdoor activities.
Fleece vs. Sherpa vs. Flannel
Sherpa and fleece are both manufactured materials designed to emulate the look and feel of wool. Fleece is a polyester fabric designed to feel like wool, and sherpa is a descendant of fleece.
Even though fleece is considered lightweight, sherpa is more lightweight than traditional fleece, but it has the same moisture-wicking properties and warmth.
Flannel is another soft and warm fabric that is similar to wool. The main difference between fleece and flannel is that flannel is made from cotton, a natural fiber. Both fabrics are loosely spun together and then brushed to create a soft nap.
Flannel is a much older fabric than fleece and can be dated back to the 1600s, but it was much heavier and thicker at the time.
Flannel has one significant disadvantage to fleece because it doesn't possess the same moisture-wicking properties. This means that when you sweat wearing fleece, the moisture is absorbed into the cotton instead of being wicked-away and keeping you dry.
Types of Fleece Fabric
There are several different fleece fabrics: microfleece, polar fleece, cotton-blended fleece, lycra spandex fleece, polyester fleece, slub fleece, and sherpa fleece.
It is remarkable to think that one fabric could have so many subcategories, each with its own unique properties. Within these different subcategories, you will also find water-resistant fleece and low-pill polyester.
Microfleece
Microfleece is a thin and soft double-sided fleece. Microfleece is also lightweight, highly durable, and quickly sicks moisture away; microfleece holds only 1% of its weight in water while remaining breathable.
As a result, microfleece is a popular choice for sports and performance clothing and outerwear such as jackets, hats, vests, and gloves.
Microfleece is usually made from polyester and is available in four different thicknesses: micro, 100, 200, & 300. Microfleece is an excellent option for anyone allergic to wool, with highly sensitive skin, or who wishes to avoid using products made from animals.
Polar Fleece
Polar fleece is similar in softness and feels to microfleece, but it is much thicker and warmer; therefore, it is more commonly used in blankets and jackets for cold outdoor activities.
One main advantage polar fleece has is that it does not pill. Because of these characteristics, many polar fleece jackets are made from 100% fleece, with the exception of fasteners.
In addition to being warm, polar fleece is also highly breathable and water-resistant. Its hydrophobic qualities make it a popular fabric choice for hikers, backpackers, and campers.
Similar to microfleece, polar fleece is sold in different weights. Fleece fabric weight is measured in grams per meter.
French Terry Fleece
French terry fleece is very different from other fleece textiles because it is left unbrushed on both sides. As a result, french terry fleece is not as soft and fluffy as other types of fleece. Nevertheless, French terry fleece is the most lightweight fleece style and is often used to make loungewear, sweatpants, sweatshirts, and sweaters.
Unlike microfleece and polar fleece, french terry fleece is often made from cotton or cotton blended with polyester. Because it is mainly comprised of cotton and doesn't possess the same moisture-wicking properties as other types of fleece, it doesn't make the best fabric for athletic or activewear.
Cotton Blended Fleece
Cotton or cotton blended fleece is a popular choice for pajamas, sweatpants, and sweatshirts because of its soft, plushy inner nap and smooth outer side. In addition, cotton fleece is considered warm and insulating and is also a popular choice for blankets and sweaters.
Cotton patterned fleece fabric is sold by many retailers and is an excellent choice for making cute and cozy pajamas and robes for both children and adults.
Cotton blended fleece can also be blended with wool to make soft, luxurious yarn ideal for creating sweaters, blankets, baby hats, mittens, socks, scarves, and baby clothing.
Lycra Spandex Fleece
Lycra spandex fleece has a stretchy property and therefore is widely used to make sportswear and fitted fleece clothing for women and girls. Lycra spandex fleece is comprised chiefly of cotton fleece but with a percentage of lycra spandex to add the stretchy and flexible characteristic.
The trendy clothing band Land's End often uses Lycra spandex fleece in their outerwear and jackets for juniors and women because it hugs the body, is flexible and moves with the wearer, and is warm and insulating.
Lycra spandex fleece is also a popular choice for performance costumes because of its stretchy characteristics.
Polyester Fleece
Polyester fleece is the original of all the fleece fabrics. Polyester fleece is smooth, soft, and has a plush texture, and is similar in feel to cotton or cotton blended fleece. In addition, polyester fleece is characterized by having a shiny outer side.
One of the best polyester fleece fabric qualities is that it repels water and dries quickly, making it an excellent choice for outwear, particularly for those camping, hiking, and backpacking.
Polyester fleece is also commonly used for mittens, hats, blankets, and a lining for boots or other textiles designed to keep people warm.
Slub Fleece
Slub fleece is a unique style of fleece with some one-of-a-kind fleece fabric properties. Slub fleece is created by blending or weaving two different sizes of fleece yarn; as a result, it has a unique, texturized look.
Slub fleece has many of the same characteristics of fleece fabric: it is warm, water-resistant, breathable, durable, and lightweight.
Slub fleece is commonly used for sweatshirts, jackets, outerwear, hats, and blankets. Slub fleece is also commonly found in pullovers and ¾ zip jackets popular with businesses that embroider on company logos for employees to wear at work.
Sherpa Fleece
Sherpa fleece is one of the more popular fleece styles, and it is the one that most closely resembles wool. Sherpa fleece is designed for cold weather use is widely used among skiers, mountain climbers, and campers.
Sherpa fleece is typically 100% polyester and has a fuzzy nap and texture on both sides of the fabric, unlike traditional fleece fabric texture, which typically has one smooth side and one texturized side.
Sherpa is more lightweight than regular polyester fleece, and it is also warmer. Because of its incredible warmth and breathability, it is often used to line garments such as jackets, boots, gloves, and hats.
Fleece Fabric Characteristics
Fleece fabric has many positive characteristics that make it a well-loved and widely used fabric. Let's take a look at some fleece facts which highlight the fabric's best qualities.
Fleece fabric durability is one well-known characteristic. It can withstand multiple washings and a lot of wear and tear, which is why it is an excellent choice for outwear and activewear. In addition to its durability, it is also lightweight and breathable.
Fleece fabric wicks moisture away and dries quickly, another reason outdoor adventurers love it! It is also a very warm and insulating fabric. Because of its warm and insulating properties, it makes an excellent lining for jackets, boots, gloves, and hats. Additionally, you can make all of these items directly from fleece without additional fabrics.
Fleece's moisture-wicking and quick-drying characteristics are why cloth diaper lovers commonly use fleece as an alternative to wool for diaper covers.
Downsides of Fleece Fabric
Fleece is a highly versatile and well-loved fabric, but it does have some downsides. Much fleece is made from polyester or a blend of polyester and other fabrics like Lycra or cotton.
Polyester production is known to be a significant pollutant to land, air, and water due to the harsh chemicals involved. It also relies heavily on fossil fuels.
However, there are some types of fleece and polyester made from recycled materials, so if that is important to you, check out where the manufacturer sources their polyester.
When sewing with fleece, it is important to pay attention to the direction of the nap, and you will need to avoid heavy decorative touches as it will cause the fleece to stretch and sag. You will also need very sharp sewing shears to cut fleece evenly.
Fleece is prone to picking up pet hair and fuzz and is also a static-inducing fabric, so make sure not to dry it on high temps or take it out of the dryer before it is completely dry.
Common Uses for Fleece Fabric
Designer brands often use high-quality fleece to make jackets, pullovers, and sweatshirts that will cost the consumer anywhere from $45-$100 or more. You can also find cheap fleece fabric products at most major retailers in the form of sweaters, pajamas, jackets, gloves, hats, blankets, and more.
Lycra spandex fleece is commonly used among athletic wear or in the production of performance costumes due to its flexibility and ability to move with the wearer.
Fleece is also a popular choice for diaper covers and baby clothes because it is easy to care for, wicks moisture away, and dries quickly.
Fleece makes excellent bedding like blankets and baby sleep sacks because it is warm yet breathable.
Cotton blended fleece is commonly used to make sweatpants, sweatshirts, and other comfy loungewear.
Some lesser-known uses for fleece are in pet beds, laptop cases, and arts and crafts projects for children. Fleece storyboards are a common item in preschool and elementary school classrooms nationwide.
Fleece Fabric in Cloth Diapers
Fleece fabric is a common choice among cloth diapering parents due to its moisture-wicking and quick-dry properties. It is also a popular choice for the lining of diapers for the same reasons. Parents can purchase fleece diaper covers for around $6-$15 apiece, or they can sew their own.
The benefits of fleece diaper covers are that because they are quick-drying, parents can typically use a cover two or three times before it needs washing.
They are also a great alternative to parents who wish to remain vegan or animal-free so cannot use wool diaper covers. Unlike wool, fleece diaper covers do not need to be re-lanolized to maintain their moisture-wicking and quick drying benefits.
Fleece is safe to put directly next to your baby's skin, so you can pair fleece liners or soaking pads with microfiber, which cannot directly touch your baby's skin.
Fleece Fabric Pricing
Fleece fabric is relatively inexpensive and easy to find at fabric realtors both in-store and online. On average, fleece fabric pricing ranges between $4.99 and $9.99 per square yard for solid colors and patterned fabrics.
If you are using fleece to make items such as diaper covers, baby clothing, baby blankets, and sleep sacks, a few yards of fabric will go a long way!
Anti-pill fleece fabric by the yard will cost you slightly more, averaging around $10.49 to $13.99.
Because styles and trends change frequently, you can often find fleece fabric clearance prices at major fabric retailers, particularly in their leftover fabric bins. This can be a real find if you are making diaper covers and only need a small section of fabric per diaper.
If you are making a more extensive project such as a blanket, you can purchase fleece by the bolt. A bolt of fleece typically costs anywhere between $65 and $99, depending on the fleece fabric color and quality.
How is Fleece Made?
Fleece is a synthetic material and is typically manufactured from polyester, which is a form of plastic. Polyester is usually made using fossil fuels and through a series of chemical reactions to create a thick molten syrup that is then spun and hardened to create fibers and woven together.
Fleece has at least one side of the fabric that is brushed, which creates a soft, fluffy texture. The bruising loosens the nap making it softer and fluffier. The soft side usually touches the skin, like on the inside of a sweatshirt. Some types of fleece, like sherpa, or plush fleece, have both sides brushed.
Fleece fabric can be 100% polyester, or the fibers can be woven with other synthetic materials such as spandex and rayon or natural fibers like hemp, wool, or cotton. In addition, some fleece fabrics are now being made from recycled plastics, which has added benefits to the environment since 100% polyester is not biodegradable.
Where is Fleece Manufactured?
Fleece, like other textiles, are manufactured around the world and have a strong manufacturing presence in Asia as well as the United States.
Shaoxing Zejia Textiles Co. in China is a major manufacturer of all fleece styles and sells to markets in North America, South America, Europe, and other parts of Asia.
A small but prevalent fleece manufacturing company is Azure Fabrics, located in India. They have been manufacturing fleece and other textiles since 1993. They create and sell 100% polyester, anti-pilling polar fleece.
If you are looking for fleece products made in the U.S., the Green Company manufactures and sells an entire line of fleece products for children, men, and women. They typically sell their products wholesale, and they can be custom designed.
One of the world's leading fleece and faux fur manufacturers is FUR Textiles, located in The Netherlands; they also have a factory in the United Kingdom. They manufacture a budget, premium, and technical textiles line of fabrics.
Fleece Fabric Environmental Impact
Different styles of fleece will have various impacts on the environment. 100% polyester fleece or polyester fleece blended with other synthetic textiles has the most significant negative impact on the environment.
Polyester is made from fossil fuels and various chemicals and, as a result, emits greenhouse gases into the air and pollutes the land and water in the area of the plant. Additionally, polyester is not biodegradable, so polyester fleece products take up space in landfills and add to the world's garbage problem.
Some types of fleece are manufactured using recycled plastics, and these have a much less significant impact, negatively, on the environment. Fleece blended with natural, sustainable materials such as hemp, bamboo, or wool also has fewer adverse effects.
Fleece blended with cotton creates less pollution; however, cotton that is not ethically sourced or organic requires massive amounts of water to produce and contributes to soil erosion.
Fleece Fabric Certifications
The primary certification that fleece fabric can obtain is the OEKO-TEX Standard 100. The Standard 100 ensures customers that the products they are purchasing contain no harmful substances.
The certification is granted through a series of checks and balances using an independent research and test institute. Securing an OEKO-TEX certification is a rigorous process so consumers can feel confident that the fleece fabric quality they are purchasing is high and ethically made.
Fleece is not eligible for organic certifications because it has a synthetic component even when blended with natural, organic textiles. Fleece, can, however, receive a recycled textiles certification from SCS Global Services if it is manufactured using recycled plastic.
SCS Global Services offers a wide range of recycled certifications but the most widely sought one is the Recycled Content Certification. This certification measures the amount of recycled material used in a product to determine whether a company or product can earn the claim.
The History of Fleece Fabric
Fleece fabric history begins in Lawrence, Massachusetts, in the 1970s. In the 1970s, Malden Mills, a textile manufacturer, was the leading producer of faux fur but unfortunately had to file for bankruptcy as the market for faux fur steadily declined throughout the decade.
In the 1980s, a team of researchers at Malden Mills began experimenting, and the fruit of their labor was polyester-based fleece. Today Malden Mills is still going strong and is one of the largest manufacturers of polar fleece and their trademarked Polartec fleece.
Fleece is a type of polyester, and polyester goes back to the 1930s and 40s when DuPont laboratories began experimenting with nylon. Extending on the research used to create nylon, scientists created polyester, and DuPont pattened the textile in 1946.
As a result, today, many of the synthetic materials available are petroleum-based textiles. Acrylic, nylon, spandex, and polyester are all synthetic materials that developed from the same research.
Fleece Fabric Alternatives
Wool is the most likely fleece alternative since fleece was invented to look and feel like the natural fiber. In addition, wool is water-resistant, moisture-wicking, and breathable. Wool, however, is also natural flame-resistant and anti-microbial, which means it is less likely to smell and hold odors.
On the other hand, Fleece is not prone to shrinking like wool is and tends to be much softer and less itchy than wool.
Another alternative is rayon. Rayon is very soft, and smooth and it is very breathable. As a bonus, rayon is a synthetic fiber made from regenerated natural fibers such as wood, making it more environmentally friendly than polyester fleece.
Rayon can also be blended with other fabrics and can be made to imitate silk, wool, cotton, and linen. In addition, rayon is easy to care for and wrinkle-resistant, and, when blended with other fibers, extremely durable.
FAQ
What kind of fabric is fleece?
Fleece is a synthetic material made to simulate wool. In most cases, it is derived from polyester but can also be made from recycled plastic.

Which fleece fabric is warmest?
Sherpa fleece is probably the warmest type of fleece, but all fleece styles are designed to insulate and keep you warm.
What is fleece fabric used for?
Fleece is typically used for jackets, blankets, hats, gloves, mittens, cloth diaper covers, and baby clothes and sleep sacks.
Is fleece fabric stretchy?
Fleece is not naturally stretchy; however, it gains some flexibility and movement when combined with lycra spandex. Lycra spandex fleece is popular in athletic wear.
Is fleece warm enough for winter?
Yes. Many fleece items are designed specifically to be worn in winter and outside while camping, hiking, skiing, etc.
Is fleece material hot?
Fleece is an insulating fabric but is also very breathable. Fleece uses your body's naturally generated heat to keep you warm.