Zorb Fabric: Properties, Pricing & Sustainability (2023)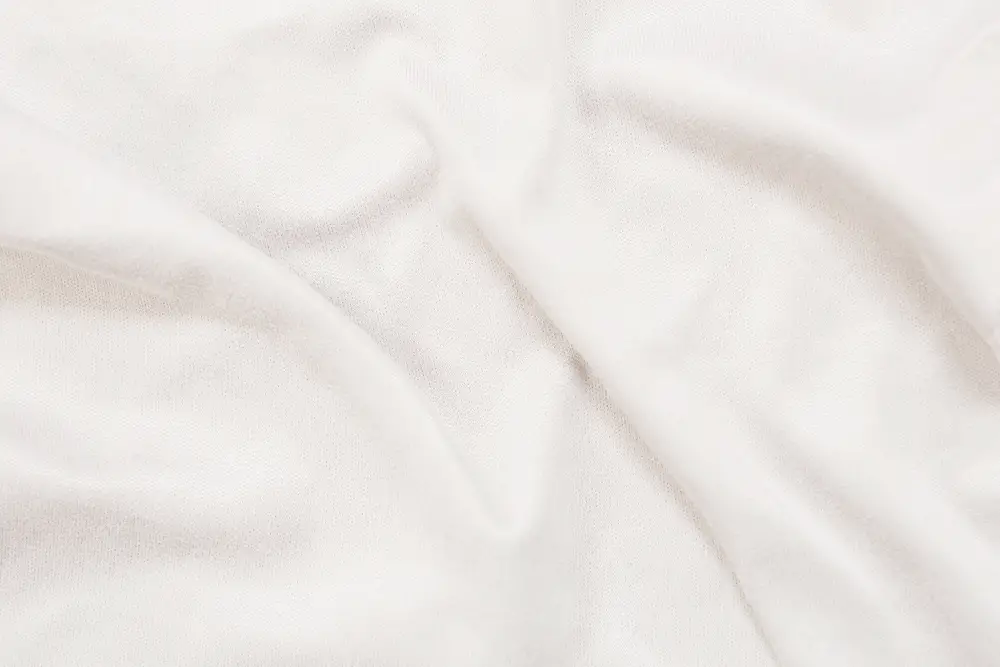 Zorb fabric is a name-brand material manufactured by Wazoodle Fabrics. Zorb is known as a wonder-fabric because it can absorb twenty times its weight in moisture ten times faster than other fabrics.
As a result, it is a popular fabric for baby clothing, blankets, and cloth diapers. Zorb was developed sometime around 2007 but since then has evolved, and there are now several types of this amazing fabric available.
Fabric Profile
Fabric Name: Zorb
Fiber Type: Synthetic cellulose fiber
Breathability: Very breathable
Absorbency: Completely water-resistant
Characteristics: Breathable, lightweight, highly absorbent, soft
Washing Requirements: Do not use bleach or chlorine, Wash in hot before using, after can wash hot or cold
Common Uses: Cloth diapers, diaper inserts, baby blankets
Heat Press Temperature: Iron on warm
What is Zorb Fabric?
Zorb material is a highly absorbent fabric manufactured by the Wazoodle Fabric Company. Zorb was initially created for use in cloth diapers, and while that is still its primary use, the fabric has expanded its application over the years.
Zorb is made from a combination of wicking fibers and absorbent fibers. The manufacturer states that zorb fabrics contain bamboo, cotton, viscose, and poly-micro fiber cellulose.
Zorb cloth is non-allergenic, absorbent, and highly durable. In addition, the unique design of zorb fabric means it decreases the risk of compression leaks and is much thinner than other types of diapering fabric.
Zorb is only manufactured in the United States and Canada, and Wazoodle Fabrics guarantee no toxic chemicals are used in production.
Zorb has been in production since 2007, and while more modern zorb fabrics have been created, many consumers say they prefer the older, original fabrics because they know how they work and are comfortable using them.
Zorb vs. Bamboo vs. Fleece
When it comes to cloth diapering, zorb fabric properties are often compared to bamboo and fleece. However, all three fabrics are considered highly absorbent and are often used to make cloth diapers and inserts.
Zorb inserts are by far the most absorbent of the three, and hemp has a tendency to hold odor and stink. In addition, hemp absorbs slowly, making it prone to compression leaks. Bamboo is incredibly soft on a baby's bottom. As a result, some parents opt to combine sorb with bamboo or hemp to play off each fabric's top qualities.
Parents who prefer to use all-natural materials may wish to avoid zorb since it has synthetic materials, although no toxic chemicals are used. If you prefer natural materials, a hemp/cotton blend may prove to be more absorbent and soft than 100% hemp.
Zorb is the quickest drying fabric, and since air drying is the best choice for cloth diapers, quick-drying fabric is a bonus!
Types of Zorb Fabric
Zorb textiles have evolved many times since their creation in 2007, and there are now several different types of zorb available, all manufactured by Wazoodle. In the following sections, we will break down the various types of zorbs, discuss their pros and cons and discuss their common uses.
Zorb Original
Zorb original was designed to be an inner layer for cloth diapers and inserts. It is a blend of bamboo, cotton, Tencel, and polyester nylon cellulose fibers. Zorb original can absorb ten times its weight in half a second. Zorb original is a white fabric because it is meant to be used as an inner layer.
Zorb 3D Dimples
Zorb 3D Dimples come in four varieties: 3D Bamboo Dimples, 3D Organic Cotton Dimples, 3D Stay Dry Dimples and 3D Diamonds. The different varieties of dimple fabric come in various colors and patterns.
The 3D Bamboo is the softest dimple style, and the 3D Cotton is the most absorbent fabric material. Finally, the 3D Stay Dry has the least shrinkage. All four styles are antimicrobial, and the bamboo and cotton are organic fabrics.
Zorb 3D Diamonds
Zorb 3D is a third-generation Zorb fabric made with more prominent 3D diamonds. It is technically a 3D dimple fabric but has a unique diamond shape. In addition, it is a super-absorbent fabric that absorbs ten times its weight in under ten seconds and is twenty times more absorbent than cotton, bamboo, or hemp.
One side of Zorb 3D diamonds is a bamboo-cotton blend, and the other is polyester. This style of zorb is defined to be used alone without additional layers.
Zorb 4D CORE PUL
Zorb 4D CORE PUL is the newest of the Zorb fabric line. It is a highly absorbent fabric with four layers of absorbent Zorb combined with a polyurethane waterproof layer and an anti-skid surface.
Zorb 4D CORE PUL cuts out one step of the sewing process since the waterproof layer is already attached. It comes in a handful of zorb fabric colors and can be used to make cloth diapers, wet bags, sanitary pads, and diaper pad changing covers.
Zorb Microfiber Terry
Zorb Microfiber Terry is the least absorbent of the Zorb fabrics, but it can still absorb eight times its weight in under two seconds. Zorb Microfiber Terry is commonly used to make towels, soaker pads, doublers, diaper inserts, and the inner layer of cloth diapers.
This style of Zorb is prone to fraying when cut, so it is recommended that you prewash all sides before sewing.
Zorb Fabric Characteristics
The characteristics of Zorb fabric make it such a popular choice among cloth diapering parents and manufacturers. First, as we've already discussed, Zorb is an incredibly absorbent fabric.
The Zorb absorbent fabric rate varies slightly depending on the type of Zorb, but it can hold anywhere between eight times to twenty times its weight.
Zorb fabric texture is soft and smooth, although it will vary slightly depending on the type of Zorb. Unlike microfiber, another highly absorbent diaper material, Zorb can be placed directly next to your baby's bottom. In addition, Zorb is antimicrobial, hypo-allergenic, breathable, and eco-friendly.
All Zorb fabrics are BPA, lead, heavy toxins, and phthalate-free. While Zorb is made using natural components like bamboo, cotton, and Tencel, it also has synthetic fibers; therefore, it is not 100% biodegradable. However, it is more eco-friendly than 100% synthetic fibers.
A final way consumers can trust Zorb fabric quality is that it is CPSIA compliant, which means the fabric is approved for use for children's products.
Downsides of Zorb Fabric
Most of Zorb fabric properties are positive, but consumers should know about some possible negative characteristics before deciding if it is the right fabric for them! This section will discuss a handful of negative Zorb fabric qualities.
Zorb has a tendency to shrink when first washed, so it is recommended that you wash your zorb in hot water prior to sewing it. Once it has shrunk, you can wash it in cold or warm water, although it can still continue to shrink.
Another downside to Zorb is that Zorb Terry has a tendency to fray when first cut. But, again, you can remedy this by washing in hot water after cutting and before sewing.
Because zorb has some synthetic components, parents who wish to use all-natural products will have to look elsewhere. The plastic or polyester component also means that Zorb is not entirely biodegradable.
Common Uses of Zorb Fabric
The most common use of Zorb is to create coth diapers and zorb cloth diaper inserts. However, Zorb was initially created for use in cloth diapers, so it is no surprise that its primary use is still for cloth diapering.
Zorb is also used to make companion products to cloth diapers such as wet bags, changing pad covers, and mattress pads. Some people use zorb to make washable sanitary pads as well.
Zorb Microfiber Terry is commonly used to make towels, bath mats, bathrobes, and washcloths. It is highly absorbent and has the feel of traditional towels.
While not its primary use, you could use the fabric to make zorb clothing such as pants or bottoms for a baby or pajamas. Zorb bottoms or PJs could help prevent leaks and messes if you have a heavy wetter or deal with frequent diaper leaks.
Because 100% Zorb is soft and breathable, parents often use it to make snuggly baby blankets for car rides and playtime.
Zorb Fabric in Cloth Diapers
Zorb was manufactured initially to make cloth diapers and has become somewhat of a wonder fabric in that realm. Because Zorb is so highly absorbent and can be placed directly next to your baby's skin, unlike microfiber, many parents opt for Zorb in their diapers.
Parents and manufacturers use the fabric to make cloth diaper lining and zorb diaper inserts used with waterproof covers. Zorb 4D CORE PUL is an all-in-one cloth diapering fabric because it has the waterproof layer already attached.
However, the Zorb cost is a deterrent to some parents as microfiber is cheaper with similar results. In addition, no major cloth diaper manufacturers currently use zorb in their diapers, so if you want Zorb diapers, you will need to either make them yourself or shop from retailers such as Etsy.
Wazoodle, the company that manufactures Zorb, sells all of its styles directly from their website, but they do not sell ready-made diapers or inserts.
Zorb Fabric Pricing
Zorb fabric pricing seems to fall all over the map; however, on the Wazoodle website, Zorb fabric by the yard averages between $7 and $14 for the older generations: wholesale $4.5 to $9. The newer or some would say high-quality Zorb such as the dimples, diamonds, or terry can cost upwards of $50 per yard and $35 wholesale.
If you are unsure which type of Zorb you'd like to use, or you want to compare Zorb fabric weight or quality, you can order swatch kits for about $15 for a set of three.
If you are looking to purchase pre-made cloth diapers or inserts, a set of six Zorb diapers from retailers like Etsy or eBay runs about $110-$135. A set of a dozen Zorb inserts costs about $85. When cloth diapering, you are likely to need a minimum of 12-15 diapers if you wash daily more if you wash every other day. If you're using Zorb diapers or inserts, you will also need to purchase waterproof diaper covers.
How is Zorb Fabric Made?
There isn't much information about the manufacturing process of Zorb but what we do know is that zorb is a blend of cellulose fibers from bamboo, cotton, Tencel, and polyester. According to the Wazoodle website, they spent eight months working on a process with their ProEco Bamboo Fleece in "developing a proprietary deep-extraction process that removes all absorbency-inhibiting agents from the fabric."
Wazoodle indicates that Zorb is a non-woven fabric and that it is chemical-free. Their blog also lets us know that they spent two years doing research and product development to create Zorb 3D and an additional six months of market trials as they made tweaks to the product.
They mention that their 3D Zorb has a "Unique three-dimensional engineered, designed pattern." In addition, their products feature SILVADUR, an antimicrobial agent that inhibits the growth of fungi, bacteria, and algae.
Wazoodle keeps their exact process and "ingredients" a secret, but we do know their fabrics are certified eco-friendly BPA free, PFSA free, and PFOA free.
Where is Zorb Fabric Manufactured?
Wazoodle exclusively makes zorb fabric in the United States and Canada. Their website lists where each individual fabric is made as part of its specifications.
Because Wazoodle only manufactures Zorb in the United States and Canada, they adhere to strict environmental and ethical guidelines that overseas factories may not have to adhere to. As a result, Zorb fabric prices tend to be higher than other styles of synthetic fabric.
The U.S. base for Wazoodle fabrics is located in Bensalem, Pennsylvania, and the Canadian branch is in Scarborough, Ontario. Wazoodle currently ships its fabrics to every country except China, and shipping rates will vary depending on the carrier and country.
Wazoodle even offers curbside pick-ups for local customers. They sell their fabrics by the yard and wholesale, and you do not need a business license to purchase wholesale lots.
Zorb Fabric Environmental Impact
Because we do not have a lot of information pertaining to the manufacturing process of Zorb, it is difficult to state what Zorb's full impact on the environment is; however, we can make some assumptions based on the knowledge we do have.
Zorb facts we know include that it is listed as eco-friendly on their website, they used certified organic bamboo and cotton products, is CPSIA compliant, and contains no harsh chemicals, lead, BPAs, and is phthalates free.
Zorb uses organic cotton, which is proven to have fewer negative impacts on the environment than traditionally grown cotton; organic cotton uses much less water, no pesticides, and doesn't contribute to soil erosion. Bamboo is another eco-friendly plant source that regenerates much faster than cotton and requires less water.
Additionally, because many of the components of Zorb are natural fibers, we can assume it is primarily biodegradable; however, the polyester and microfiber components would not be biodegradable.
Zorb Fabric Certifications
Wazoodle has an entire page dedicated to their certifications and qualifications. They clearly state that they are not OEKO-TEX certified because it is not relevant to them as an American company.
OEKO-TEX is an independent European association that certifies fabric meets safety standards for consumers. Wazoodle states because they comply with U.S. agencies, which are already highly regulated, there is no need to seek an OEKO-TEX certification.
According to Wazoodle Zorb, fabric quality is assured because the company follows all health and safety regulations set forth by the Consumer Product Safety Commission (CPSC), the Occupational Health and Safety Administration (OSHA), and the Environmental Protection Agency (EPA) in their manufacturing process.
Wazoodle states they the guidelines set forth by CPSC, OSHA, and the EPA are more rigorous than the OEKO-TEX regulations and that they, as a manufacturer, promise not to use toxic additives or fire retardants on their fabrics.
Although Zorb is made using organic cotton and bamboo, it is not eligible for organic certification because the fabric has synthetic components.
History of Zorb Fabric
Zorb fabric history began around 2007 when the Wazoodle fabric company invented this wonder fabric. When it was first released, it was hailed as being more absorbent than disposable diapers per Wazoodle CEO Archana Sharma.
Original Zorb is still on the market and is the most affordable type of zorb at roughly $7 per yard. Zorb original only comes in white as it is intended to be sandwiched between two other layers of fabric. As Zorb's popularity took off, the company continued to tinker with their wonder fabric.
The second generation of Zorb is available in Dimples and Diamonds and is manufactured "pre-sandwiched. Unfortunately, Zorb's 2nd generation is prone to shrinkage; therefore, the company continued to play with the design and created the third generation of fabrics with less shrinkage and more absorption.
The final additions to the Zorb family thus far are 4D Zorb which is ultra-absorbent and waterproof, and Zorb Microterry which is a 100% microfiber terry cloth.
Zorb Fabric Alternatives
Zorb's biggest competitor, especially in terms of synthetic fabrics, is microfiber. Microfiber is an excellent Zorb fabric alternative because it is also highly absorbent, but unlike Zorb, it is inexpensive.
In addition, microfiber dries quickly, like Zorb, and can be placed in the dryer or line dried. The main downside to microfiber is that it cannot be placed directly next to your baby's skin. Therefore you will need to use it with another insert on top or use them in a pocket diaper.
Hemp and bamboo are additional alternatives to Zorb because they are both absorbent and soft to the touch. As a result, hemp and bamboo will appeal to parents who do not wish to use synthetic materials in their baby's diapers. In addition, hemp and bamboo are comparable price-wise to Zorb.
Terry cloth is another alternative to Zorb, mainly Zorb Microfiber Terry used for bath towels, bathrobes, and kitchen towels.
FAQ
What is the most absorbent fabric?
Zorb is a highly absorbent fabric, and all styles of Zorb are absorbent, but according to the manufacturer website V2 Zorb 4D, Organic Cotton Dimple Waterproof CORE PUL Fabric is the most absorbent.
What is Zorb fabric?
Zorb is a non-woven fabric made from cellulose fibers of bamboo, cotton, Tencel, and polyester. There are several generations and styles of Zorb.
How to use Zorb?
Zorb was designed to be used as an absorbent layer in cloth diapers; however, you can also use Zorb to make towels, wet bags, sanitary napkins, baby blankets, and more.
Is Zorb fabric breathable?
All types of Zorb are incredibly breathable. In addition to being breathable, they are lightweight.
How do you wash zorb fabric?
Zorb is prone to shrinking, so it should be pre-washed in hot water before use; once it has been washed, you can wash it in warm or cold water.